Last week at the National Holstein Convention in Springfield, Mo., junior members gathered for the youth forum to hear the state of the association address by JAC Chairman Derek Wasson and to select three new representatives for two regional positions and one at-large role. The JAC serves as a sounding board for junior members to give input to the national adult association concerning junior events.
Representing Area IV (from Missouri to the West) will be Briar Jeg from Washingon. Area II's (the Southeast) representative will be Austin Pluskot of Florida. The at-large position was filled by Molly Herberg of Minnesota.
The committee began in 1988 and was comprised of four youth and four adults from the four U.S. regions. An adult and one youth from the upcoming convention host also sat on the committee at that time. The four regions remain intact, and a youth from each region serves the membership along with two at-large junior members, all serving a two-year term. The concept of four adults from the four regions remains the same.
In 1988, youth could participate in Dairy Bowl and the National Distinguished Junior Member contest. Due to the input from this committee, numerous programs have been implemented to encourage more participation from juniors on the national level. Dairy Jeopardy and prepared public speaking contests are conducted at the convention.The addition of an educational and scientific display contest allows youth to submit a folding display for judging, even if they are unable to attend the convention in person.
For youth whose passion is working with and breeding Holsteins, numerous awards were started two decades ago to recognize their achievements. Those awards currently presented include Breeder of an Excellent, Breeder of a Multiple E Animal and Progressive Star Breeder. For those juniors who focus on production, they can receive recognition for 30,000 pound lactation records, 150,000 lifetime credits and 200,000 lifetime credits for their cows.
Many enhancements to the junior programs came into effect because of the work of the Junior Advisory Committee. More youth, with varying backgrounds and talents, can now participate in national programs. The junior leasing program, allowing youth to exhibit animals owned by others when they do not own any animals, also was a product of the committee.
The current committee ranges from juniors with a few dozen cows in their home operation to over 2,000 milking females. They span from Washington to Florida and from California to Maryland, and from organic to conventional dairy producers.
The 2012-2013 Junior Advisory Committee members are: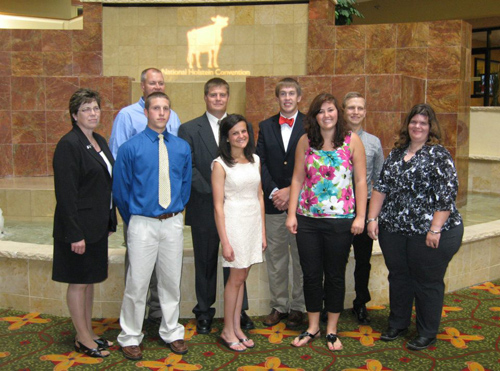 Front: Pat Kitchen, Briar Jeg, Taylor Pires, Molly Herberg, Ann Marie Magnochi. Back: Darrell Rennich, Austin Schwartzbeck, Aaron Mitchell, Austin Pluskot