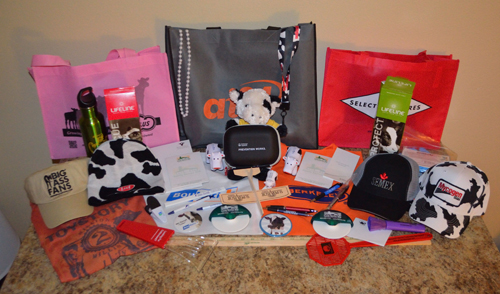 While the trade show is an opportunity for networking and finding out about new innovations and shopping for useful products, one can't help but also take advantage of the many freebies handed out at each booth. I went from booth to booth, seeking out the plethora of product handouts, notepads and writing utensils.
Check out a few of these booths for their unique giveaways.
A trend from booth to booth is cloth bags. These bags come in handy to carry the merchandise you acquire, but they can also make great reusable grocery bags when you return from expo. While many booths offered bags of similar quality, the bags at the Semex booth (EH 2608-2709) were the deepest and had the greatest holding capacity for freebies.
One of my best finds of the day was a hard shell first aid kit from Boehringer Ingelheim (EH 2806-2909). Also you can satisfy your hunger by picking up a box of popcorn, in a Lifeline colostrum replacer box at APC (EH 3617-3718).
If you are looking for a new baseball cap, there are several booths that can meet that need. Semex, Big Ass Fans (EH 1408-1509), and Mycogen (AR 477-78) were among booths that were handing out hats. In the arena, a stocking hat could be found at the Lely (AR 461-483) booth. Find out the word of the day from the Genex Cooperative Facebook page then stop at the Genex (AL 218 to 225) booth to receive a free Toystory t-shirt or hat.
The Cottonseed booth (EH 4107) offered several quality freebies including a stainless steal water bottle, ice scraper, and fly swatter. Then, Family Dairies (EH3507) handed out a pizza cutter.
If you are looking for a new yardstick, Tracy Seeds (TC 915) has an abundance. You can't come home from expo without a stress cow which can be found at the Novus (EH 1211-1212) booth. In addition, Allflex (EH 4512-4513) is personalizing ear tag key chains.
Don't forget to download the official Hoard's Dairyman World Dairy Expo app. If you stop by our booth and show us that you downloaded the app, you can receive a free stylus.