The emotional and growing revolt by California milk producers against what they say is their state's inadequate and unresponsive milk pricing system, gained a lot more traction on May 13.
It came in the form of a proposal authorizing a California Federal Milk Marketing Order (FMMO) which was included in the 2013 Farm Bill draft being prepared by the House of Representatives' Committee on Agriculture.
"The California Federal Milk Marketing Act" would allow California dairy producers to petition the U.S. Secretary of Agriculture to join the FMMO system. It was proposed by newly-elected Congressman David Valadao (pictured here), who grew up on a family dairy in the state's huge San Joaquin Valley dairy region. It is co-sponsored by five other California congressmen.
Interest in a federal order has heated up among California milk producers as frustration with the state's complex 44-year-old pricing system has boiled over. It stems from repeated petitions and hearings in recent years for emergency price relief to help cope with high feed costs, and adjustments to its internal formulas so they incorporate higher whey values that are present in national markets. These have produced little or no results. A court case was even filed against the California Department of Agriculture in 2012, charging that it has failed to meet certain directives in the State Agricultural Code, but it too was denied.
As a result, multiple public meetings have been held in California in the last year to discuss how FMMOs work. While interest in their concept has increased due to growing dissatisfaction with the state system, I continue to strongly doubt that California producers and their co-ops will embark down the long and uncertain path that is involved in implementing a federal order.
---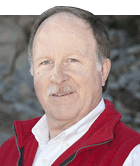 The author has served large Western dairy readers for the past 36 years and manages Hoard's WEST, a publication written specifically for Western herds. He is a graduate of Cal Poly-San Luis Obispo, majored in journalism and is known as a Western dairying specialist.