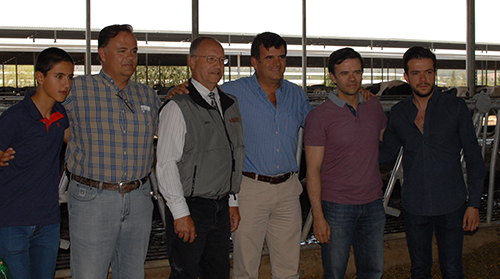 Shown in the photo from left to right are Gerardo Romo, Fernando Romo, Secretary Ben Brancel, Manuel Romo, Alberto Romo, and Ernesto Romo.
The dairy farm is located in the Mexican state of Jalisco, which is one of the 32 states found in the Spanish-speaking nation. The specific farm in the video is one of two 3,500-cow dairy farms owned by ProAn, a family business started by Manuel Romo. Cows are milked in rotary parlors at both farms. Today, sons Manuel, Fernando, Ernesto, and Alberto run various aspects of the business that also features Mexico's largest poultry enterprise along with swine facilities.
From a dairy farm perspective, the milking parlor and milk preparation procedures were on par with top-end U.S. dairy farms. Likewise, so were the nutrition, reproduction, and other aspects. Sand was the bedding of choice for the open-sided freestall barns.
Jesus Olmos, who earned his Ph.D. from the University of Wisconsin-Madison, is one of the farm's chief consultants with one of his main areas of expertise centering on nutrition. It was Olmos who coordinated the Wisconsin Department of Agriculture, Trade and Consumer trade mission visit to ProAn Dairy in mid-June.
ProAn Dairy is located in Jalisco, Mexico, which has been a sister state to Wisconsin since 1991. While Wisconsin produces 14 percent of the U.S. milk supply, Jalisco's dairy farmers produce roughly 20 percent of the Mexican dairy supply. Even with the region's productivity, Mexico remains a net dairy product importer, purchasing 35 percent of its dairy products from other countries.
Land in the Jalisco region represents similar conditions found when W.D. Hoard began sharing the virtues of dairy farming in Wisconsin in the late 1800s. That is why manure is such a valuable resource in improving soil fertility and crop yield. ProAn Dairy not only makes wise use of manure, but the Romo family also has a biodigester that generates an internal power supply to deliver electricity to the dairy. Wells roughly 1,000 feet deep pump water throughout the farm.
While the Jalisco region represents great promise for dairy farming . . . and 20 percent of the Jalisco labor force works in farming enterprises . . . the region has its water issues. The state's major city, Guadalajara, and surrounding urban centers, often only deliver water two hours each day. That is why many homes have cistern tanks on rooftops to store water and create water pressure.
---
This
Hoard's Dairyman Intel
article is part of an ongoing series that will highlight a Wisconsin Department of Agriculture, Trade and Consumer (DATCP) trade mission to Jalisco, Mexico. That trade mission coincided with the CIGAL Dairy Trade Show held June 13 to 17, 2016. In all, 11 companies, two educational institutions, two Wisconsin state agencies, and one publication attended the event, along with Wisconsin Governor Scott Walker and DATCP Secretary of Agriculture Ben Brancel.
Click here to view an additional report from the trade mission:
Two Dairylands forge a stronger alliance.
Return to
Looks like a U.S. dairy farm, but it's not
To comment, email your remarks to intel@hoards.com.
(c) Hoard's Dairyman Intel 2016
July 18, 2016