The author is a farm management specialist for the UW-Extension Center for Dairy Profitability.

Labor cost is an important factor in determining dairy farm profitability. In general, it accounts for about 15 percent of total expenses for a typical dairy enterprise. With increasing wages, including the pressure to raise minimum wage, labor efficiency is a legitimate concern shared by many dairy farm managers.
While the average hourly wage of dairy farm workers remained almost unchanged between 2008 and 2012, it rose 5 percent or more per year between 2012 and 2015. Wage projections for the U.S. general economy suggest that this trend will continue for the near future.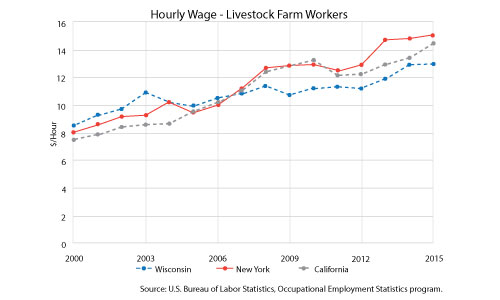 The recent jump in farm employee wages combined with a drop in dairy farm income adds pressure to improve farm labor use. For those concerned with labor efficiency, finding appropriate benchmarks can be a good starting point.
For example, achieving four turns per hour in your milking parlor remains a useful reference point. More generally, you can look at the number of cows per full-time employee (FTE). A good target would be 30 cows per FTE for tie stall operations and 50 cows per FTE for parlor operations.
An alternative measure is the number of labor hours per cow. Some data showing average labor efficiency measures for different farms sampled by herd size and region are provided in the table (all measures are for dairy enterprises only, excluding crop and feed enterprises). Note that differences in labor efficiency stem not only from farm size and style but also from climate zones. Farms in the Southwest tend to show higher labor efficiency, probably due to differences in milking routine.
No matter the farm size or location, quality should always be kept in mind. The objective should be to improve labor efficiency while maintaining quality milk production.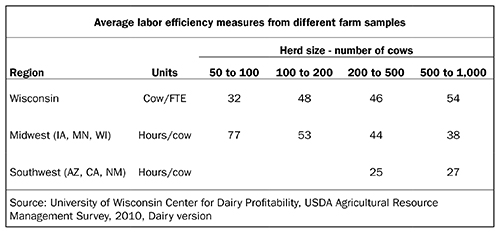 As labor becomes a more costly input, farm managers need to think about using it in more efficient ways. In part, that means becoming better employers and developing an engaged and motivated workforce. The good news is that becoming a better employer does not necessarily require large capital investment, and there are many things that can be done aside from raising wages. It does, however, require some attention and dedication to improving your own skills.
To comment, email your remarks to intel@hoards.com.
(c) Hoard's Dairyman Intel 2016
August 1, 2016