The information listed below has been supplied by dairy marketers and other industry organizations.The information provided here has not been edited, verified or endorsed by Hoard's Dairyman.
Three Registered Jersey™ herds are among eight "cream of the crop" dairy operations being featured on the Virtual Farm Tour program at the 2016 World Dairy Expo.
Mapleline Farm, LLC, Hadley, Mass.; Twin Brook Creamery, Lynden, Wash.; and Ponderovey Jerseys, Glendale, Ariz., are all enrolled on REAP, a comprehensive service package from the American Jersey Cattle Association that includes registration, Equity milk marketing support, functional type appraisal, and performance testing. More than 167,000 cows are enrolled on all AJCA performance evaluation programs at mid-year 2016.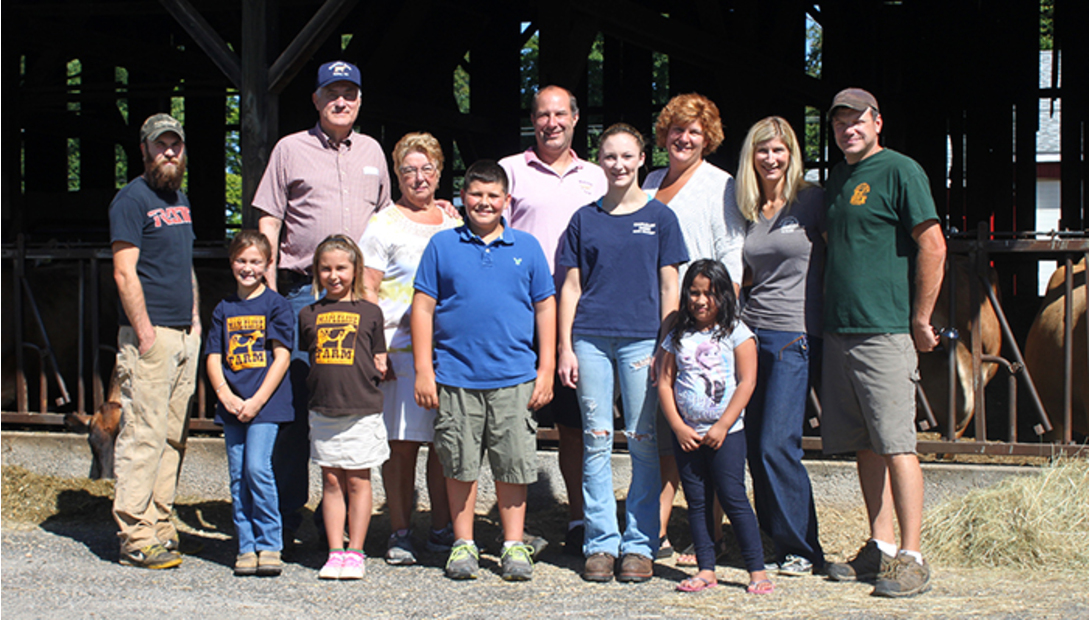 The tour of Mapleline Farm will start at 12:00 noon on Thursday, October 6 in the Mendota 1 meeting room in the Exhibition Hall at the Alliant Energy Center, Madison, Wis. The American Jersey Cattle Association is the program sponsor.

John Kokoski, a director of National All-Jersey Inc., will talk about Mapleline's success in fluid milk processing and direct-to-consumer marketing, plus adoption of innovative technologies and sustainable resource management.

Six generations of the Kokoski Family have farmed at Mapleline Farm, starting in 1904 when Stanley Kokoski purchased a farm blessed with outstanding soil in the Pioneer Valley. He farmed vegetables and produced milk, the milk hauled to the train station for delivery to a creamery. Great-grandson John took over the operation in 1986 and phased out the vegetable and tobacco business to focus on dairying. The herd numbered 45 Jersey cows when in 1995, he started hauling the milk to be bottled offsite, bringing it back to be sold from a store in front of the dairy barn. The enterprise was so successful that in 2004, John purchased the processing equipment and relocated it on the farm. Herd expansion followed, growing to 60 cows in 2006, then to its current size of 135.

As John told Farming magazine last June, "I haven't shipped milk in about 13 years." Mapleline Farm processes 275,000 lbs. milk each month, 70% of it produced on farm and the balance sourced from other farms to meet demand. Products are whole milk, 2%, 1%, skim, half-and-half, heavy cream and buttermilk. Flavored milk always on sale is chocolate, strawberry and coffee, with orange cream and eggnog offered seasonally. One-quarter of the milk is bottled in glass.

Mapleline products are available in area stores, used by local restaurants, bakeries and coffee shops, in demand from local chefs, and included in the food service for students at five area colleges, including John's alma mater, the University of Massachusetts at Amherst. While Kokoski focuses on delivering Mapleline milk in a 10-mile radius of the farm, it is also sold in stores and made into ice cream in Boston.

On Wednesday, October 5 at 2:00 p.m., Lely will present the Virtual Farm Tour of Twin Brook Creamery. Larry Stap and his wife Debbie, along with daughter Michelle Tolsma and her husband Mark process, bottle and market a full line of Jersey creamtop milk in glass bottles to over 200 retailers in Seattle and Portland.

Twin Brook Creamery is a fifth-generation farm established in 1919 by Jacob Stap (Larry's great-grandfather), his wife Tryntje, and their four children. Clearing the land themselves and framing their own house and barn, they established a homestead that over time produced hay, milk cows, nursery plants, and row crops. Their son Charlie was the first to go into farming, followed by his brother John (Larry's grandfather), who eventually bought the land from Jacob. Since Charlie had already used the Stap family name for his nursery business, John chose another for the farm: Twin Brook. Son Jake Stap continued the family business by buying the farm in 1964. When Jake retired from farming in 1992, son Kermit took over. Larry had previously established a separate operation, Fishtrap Dairy, in 1981. In 2001, the opportunity arose for Larry to purchase the family's heritage farm.

Last year, three Lely Astronaut A4 milking systems were installed for the 185-cow Jersey herd. Says Larry, "I find that the robotic milking is only one small part of what we purchased. It's an incredible management tool. Milk production has gone up [and] it gives me more information to manage my herd in a very timely, precise cow health friendly way."

The final program on Expo's Virtual Farm Tour program will be presented by Paul Rovey, who with wife Deborah and their five children, operate the 2,000-cow Ponderovey Dairy. It is scheduled for Saturday, October 8 starting as 12:00 noon. Betaseed, Inc., is the program sponsor.

Paul's father Emil was a key figure in the development of Arizona agriculture, working four years after earning his college degree as the state 4-H leader, then in 1943 buying a 143-acre farm in Glendale, a town just north of Phoenix. He helped organize the Co-op Dairy, which later merged into the United Dairymen of Arizona. He was president of the American Dairy Association of Arizona from 1952 to 1959.

When Emil purchased the farm, it was all Jerseys but by 1956, he was converting it from Jerseys to Holsteins. "When I bought the dairy," Paul notes in the farm's website, "we converted back to Jerseys!" Herd production today averaged 16,300 lbs. milk at 4.5% fat and 3.5% protein.

The farm is now surrounded by urban development, so the Roveys make a conscious effort to be good neighbors through landscaping, water recycling and pest management.

In 2012, Rovey was elected chairman of the U.S. Dairy Export Council. USDEC's mission is to enhance demand for U.S. dairy products and ingredients by securing access and assisting suppliers to meet market needs that facilitate sales. Membership has grown to more than 115 companies and it now represents 80% of U.S. dairy processors.

The other Virtual Farm Tours feature dairies located in Kansas, New York and Wisconsin. All presentations will be recorded and available for viewing on World Dairy Expo's website after the show.

World Dairy Expo opens Tuesday, October 4 with the International Jersey Show starting with heifers at 3:00 p.m. in the Coliseum. The cows enter the ring at 7:30 a.m. Wednesday morning and the show concludes with selection of the Grand Champion by judge Chris Lahmers, Marysville, Ohio.

The Top of the World Jersey Sale follows the show on a new day, Wednesday, October 5 starting at 7:00 p.m. in the Estrumate Sale Pavilion. Jersey Marketing Service, Reynoldsburg, Ohio, is the sale manager.

Staff of the American Jersey Cattle Association and National All-Jersey Inc. will be available throughout Expo in the USJersey exhibit located in the Coliseum at Arena Level 101 and 102.

The American Jersey Cattle Association, organized in 1868, compiles and maintains animal identification and performance records for dairy herd owners and provides services that support genetic improvement and greater profitability through increasing the value of and demand for Registered Jersey™ cattle and genetics. For more information on USJersey services designed to enhance commercial profitability, contact the American Jersey Cattle Association by writing 6486 E. Main Street, Reynoldsburg, Ohio 43068-2362, visit USJersey.com, or connect at Facebook.com/USJersey.
10.03.2016