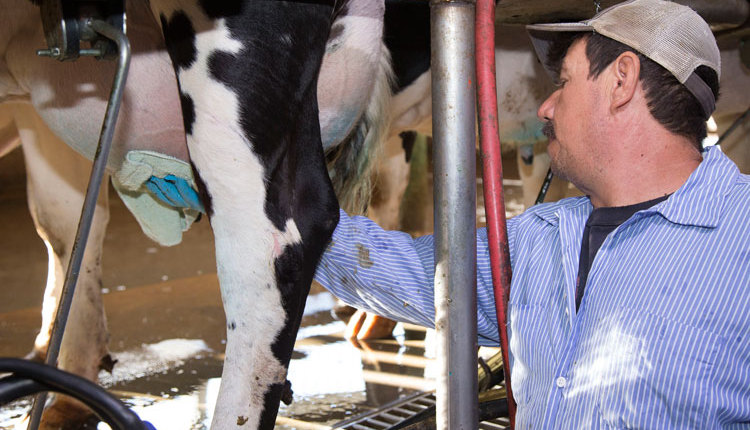 "At one time, I thought an MBA (Master of Business Administration) would help me work with people. I was wrong," said Tom Jinkinson, D.V.M., who graduated from the University of Minnesota. "I have since learned that it takes boots on the ground and understanding the culture to work well with and supervise people."
By boots on the ground, Jinkinson shared that good managers get to know their staff and their families. "Have a rapport with them in the good times, so when corrective action is necessary, you will get greater buy-in," Jinkinson told those attending the Dairy Cattle Reproduction Council annual meeting in Columbus, Ohio.
"Farm managers must be humble and work with everyone," added the staff veterinarian with Davis Family Dairies. "This includes the milkers. Get to know them as people in the parlor. Later, this connection will help you discuss and to illustrate technique through examples," he said. "Simply standing by workers with clipboards and documenting activity doesn't lead to improvement."
Admittedly, Jinkinson said that these skills were not easy to learn. Quite frankly, "managing cows is easy, managing people is hard," said the soft-spoken but confident team leader.
Fellow employee personnel panelists and the Dairy Cattle Reproduction Council agreed with Jinkinson's comments on leading teams.
"Farm managers, get out of your office and eat lunch with your employees," said Ernesto Santillanez, who managed a 5,000-cow dairy at one time and now works for Afimilk.
As for people's attitudes, "We have learned that when potential candidates ask about salary early in an interview, those people do not last long on a dairy," said Jinkinson. "In fact, we don't hire people who ask 'What will be my salary?' in the first two questions," he went on to say. People who ask about the profession, work environment, and other job attributes generally have different motives.
As far as Davis Family Dairies is concerned, the team believes in homegrown talent. "We promote from within. Everyone starts out as a milker."
Fellow panelist Gabe Middleton, a veterinarian with Orrville Veterinary Clinic, offered his perspective on personnel matters, "Every employee on a dairy should have a supervisor. And that supervisor must be a trustworthy team member," he went on to say.
"If you don't have trust on a team, everything else will fail," stated Middleton.
As for cow care, "Every dairy farm should have this goal — I work for the cow. The cow is more important than working for XYZ Dairy," said the employee consultant.
To comment, email your remarks to
intel@hoards.com.
(c) Hoard's Dairyman Intel 2016
December 12, 2016