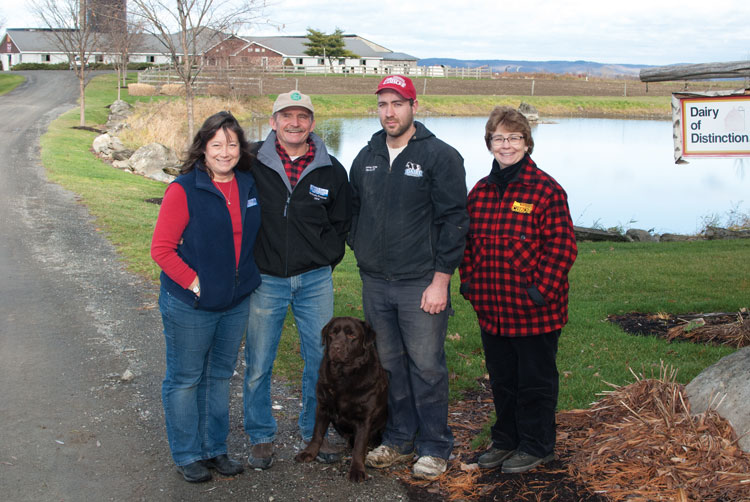 "We scrape wet or dirty bedding back into the gutter and then pull clean bedding to cover the foam mat bed. We apply this practice at each milking (two) and every time feed is pushed up (at least four times per day)," said the meticulous Jim Davenport when discussing how he keeps cows clean on his Platinum-winning Ancramdale, N.Y., dairy located an hour south of Albany. Davenport's dairy, along with five others, will be honored at this January's National Mastitis Council meeting in Florida.
"Each day, 0.70 cubic feet of kiln-dried pine sawdust and 5 ounces of hydrated lime are incorporated into each stall," said the herd owner who was one of six winners in the 2016 National Dairy Quality Awards competition. "We use 'over cow' fans which are able to swivel to enhance the natural air current through the barn for constant airflow in the summer. We also employ thermostatically controlled fans with adjustable louvered intake vents set at 45°F for winter."
"For dry cows, we utilize properly sized big loop freestalls with brisket boards," said the herd owner whose 70 Holsteins and six Ayrshires average 25,358 pounds of milk and a somatic cell count of 47,000. "The cows lie on foam mattresses topped with kiln-dried sawdust. Kiln-dried sawdust is a must to reduce microbial activity. We scrape daily in the summer when the cows prefer to be out of the heat and also during times of cold temperature, high winds, and sleet," Davenport went on to say.
Two of this year's six Platinum winners of the National Mastitis Council's awards competition share additional insight in this Hoard's Dairyman Intel as well as the Round Table found on pages 18 to 20 of the January 10, 2017, issue of Hoard's Dairyman. This year 122 herds were nominated for the award.
Here are additional responses to the question, "How are cows kept clean and comfortable?"
UW-Marshfield, Marshfield, Wis.: Stalls are bedded with new bedding twice a week. Stalls are groomed daily with a mechanical sand rake. In addition, stalls are hand groomed twice daily during milkings or more as needed. Beddings include new sand and dried manure solids (we are a research farm and researching different bedding substrates). Twice a year the back one-third of soiled bedding in deep-bedded stalls is removed and replaced. Scrape alleys between freestalls are cleaned three times a day. Cow comfort is assessed once a month using indices described by Nigel Cook, D.V.M., from the University of Wisconsin School of Veterinary Science. Tail switches are trimmed 1 inch below the last tail vertebrae for hygiene. Lely cow brushes are installed for grooming.
Close-up heifers are introduced to the calving barn 21 days before the respective freshening date and are bedded daily with clean wheat straw. Manure is manually removed from calving pens. Waterers are cleaned weekly when temperatures are above freezing. Waterers are cleaned more often in the summer. Scrape alleys in the calving barn are cleaned daily. The UW-Marshfield research farm does not house dry cows. At dry-off, cows are transported to the UW-Emmons Blaine Dairy Research facility in Arlington, Wis.
Vision-Aire Farms, Eldorado, Wis.: Sand-bedded stalls are raked twice a day. Every seven days, fresh sand is added to stalls. The barn alley is scraped daily and the barn is tunnel ventilated.
Dry cows are housed in group housing on a bedded pack of wheat straw and cornstalks. Bedding is added weekly or as needed. The bedding pack is completely removed every three months.
This Hoard's Dairyman Intel article is the second in a two-part series detailing top milk quality tips from the Platinum-winning herds for the National Dairy Quality Awards competition.
To read about the three other Platinum winners, click here for, "Winning herds share cow cleanliness tips."
(c) Hoard's Dairyman Intel 2017
January 16, 2017