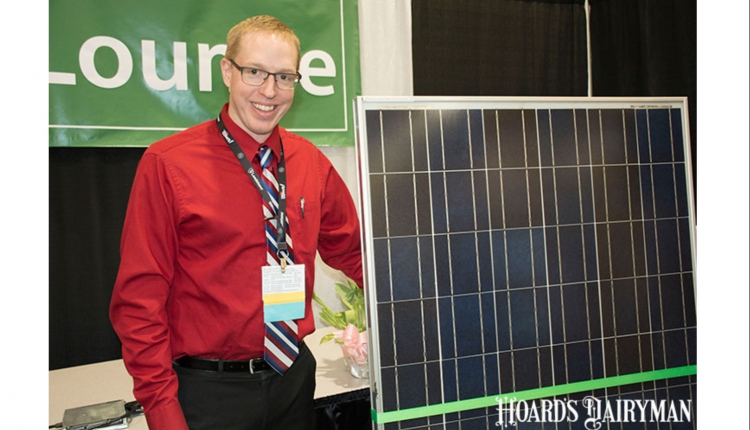 It takes a lot of energy to run a dairy. Close to half of that electricity goes toward milking
cows and cooling milk. Another large portion is used for lighting and ventilation.
Energy alternatives, such as solar power, are nice, environmentally friendly options, but do they pencil out?
"Yes, solar panels are affordable," said Adam Wehling during his presentation at the Professional Dairy Producers of Wisconsin's annual business conference. Wehling is the Dean of Agriculture, Energy, and Transportation at Chippewa Valley Technical College in Eau Claire, Wis.
Wehling explained that most farms installing a solar energy system see a payback in five to 12 years. As one might suspect, farms in warmer climates with more sunshine benefit sooner.
It takes time to choose the right solar system for your needs. Thought should also be given to location.
Wehling said to avoid shaded areas and consider proximity to trees, silos, hills, and buildings. These obstacles could block the desired sunlight. He also recommends a south-facing location to take advantage of the sun.
If a solar system is to be placed on a rooftop, think about the life of the current roof. Wehling explained that if the roof is old, it may be wise to replace it before installing a solar system. Also be sure the roof can support the weight of the solar panels. A roof with a 30- to 45-degree angle is best.
Another option for solar energy is a stand-alone racking system. With this design, there is no need to worry about roof maintenance, but one does have to be diligent about regular vegetation removal in the area.
Solar panels should be placed in a location where they will not get covered with dust and debris, which can impact their effectiveness. Fortunately, Wehling explained that solar panels don't have to be high maintenance, as weather naturally cleans them off. "Solar energy can be a 'set it and forget it' system," he said.
Wehling shared a cost for solar systems of $2.75 to $3 per watt before any rebates, incentives, or grants were applied. Again, payback is expected in five to 12 years for most farms and residential systems.
To comment, email your remarks to intel@hoards.com.
(c) Hoard's Dairyman Intel 2017
March 20, 2017