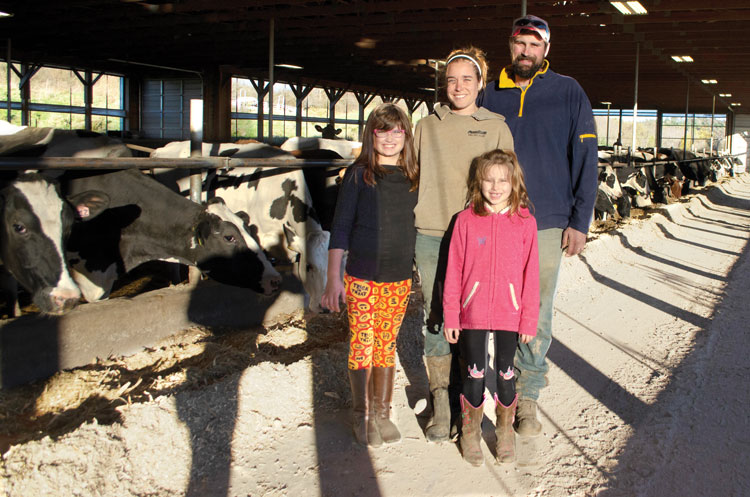 Young people involved in dairy can sometimes face an information overload when it comes to learning. Utilizing resources, staying in touch with dairy industry friends, and reading dairy magazines and online resources were just a few of the strategies engaged by the young people interviewed for the Round Table "These young farmers came back to the dairy" that can be found on pages 714 to 716 of the December 2018 issue of Hoard's Dairyman.
Here's how they answered the question "How do you stay up-to-date on dairy information?"
Slaymaker Farm (Jessica and Dan Slaymaker), Mansfield, Pa.: As far as staying informed, we glean new information from our membership in the Professional Dairy Managers of Pennsylvania (PDMP) and attend their meetings throughout the year. We also rely on information from the Penn State extension group and read various agriculture publications.
Additionally, Dan is always watching and listening to what others are doing. He likes gathering ideas from those around him and then utilizing the ones that work for him. He gets a lot of ideas from serving on his milk co-op's board.
Finally, we utilize a profit team, which has been absolutely crucial to getting us where we are today. Our team gets out to our operation as well as other farms and brings in really valuable new ideas.
Schulze Dairy (Chris Schulze), Holland, Minn.: I stay informed about the industry primarily through my online networks as well as individuals I interact with at shows. I try to attend both World Dairy Expo and the Central Plains Dairy Expo to gather ideas each year.
Finally, for the past several years, the farm has been working with the Southwest Minnesota Dairy Initiative. We have a team made up of our banker, veterinarian, nutritionist, and extension personnel that evaluate the farm and meet with us two to four times a year to discuss opportunities and challenges on the farm.
Ohlde Dairy (Justin Ohlde), Linn, Kan.: Staying informed has never been so easy. There are magazines to read, people to follow on Twitter, blogs, emailed newsletters, people in the industry, and so forth. You just have to pick out what is good and what is a waste of time. I read a lot, which is funny because I hated reading in school. Parents, don't lose hope if your teenage boy doesn't like to read; they might change their mind.
Glen Meadows Farm (Clark Egelston), Fultonville, N.Y.: I joined the Alpha Gamma Rho fraternity at Virginia Tech, which consisted of many young men in the same position as myself. I still have very good relationships with my fraternity brothers and find that I get a lot of my information for the farm through them. Chances are if there is some new technology out there, one of my fraternity brothers uses it, and there is nothing more valuable than an honest opinion and learning through someone else's experiences.
I also feel that Hoard's Dairyman does a fantastic job getting real accounts from real farmers and offers the same level of integrity I get from my college relationships. I rely heavily on my veterinarian and pharmaceutical representatives to keep me up-to-date on current research. I take advantage of different young farmer/leadership programs offered through my co-op and farm lender. If there is one thing I have learned since college, it's that I will never know it all, and it is extremely important to keep pushing myself to learn.
To comment, email your remarks to intel@hoards.com.
(c) Hoard's Dairyman Intel 2018
December 31, 2018