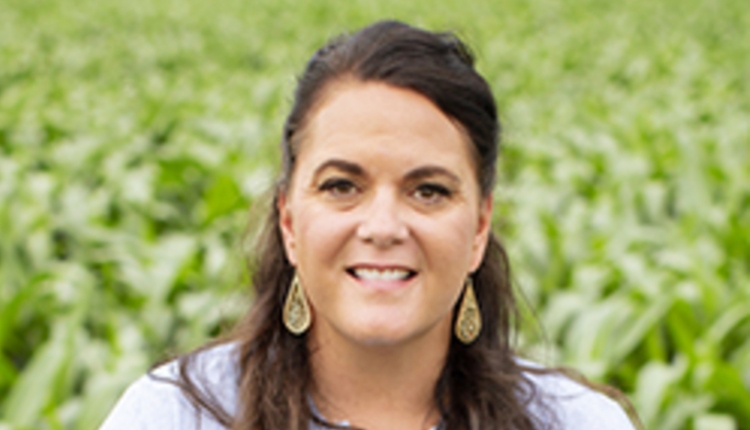 School cancellations make kids scream with joy. Staying in pajamas, baking cookies, watching movies, and then heading out to play in the snow — oh, what fun!
Except for farm kids, where a snow day means something else entirely. Three days after Thanksgiving, we got to witness firsthand what a snow day means around here at Bohnert Jerseys.
Snow days mean praying that we don't lose power and that we don't have to hookup the generator . . . and if we do, hoping the generator doesn't fail us. Snow days mean plowing and pushing a lot of snow. I can't emphasize this enough — we plow and push a lot of snow. This job takes all day.
Nobody stays in pajamas. Nobody watches movies. Nobody plays in the snow. Instead, out the door we go to help shovel and plow the snow. We divide to conquer the chore list, which is extra long because of the foot of snow that we received the night prior.
Speaking of which, the day before, when it heavily snowed in the late afternoon and evening, Scott had already clocked in a 15-hour day. He came inside for dinner and Sunday Night Football, and then went back outside at 10 p.m. to begin plowing snow so second-shift employees could leave and our first-shift employees could come in, as well as the milk truck.
Scott did that job until 1 a.m. Then, back outside he went at 5 a.m. the next morning to mix feed and begin his even longer day because of all the snow. That was when all the schools around us, and many of the businesses, announced they were closed due to the snow.
However, as you all are well aware, dairy farms are never closed. They are open rain or shine — and even in a blizzard.
I rose soon after my husband to start making breakfast. I felt compelled to make a small feast for our family and our employees, to help fuel them up for the work that lay ahead. So a couple of breakfast casseroles, cut-up fresh pineapple, and a few gallons of milk headed to the barn break room, where the crew happily ate it all up.
Then, after a quick breakfast break, we all headed out to help attack the chore list. Our oldest son, Tyler, helped his father plow snow, feed heifers, bed heifer lots, feed calves, and more.
Our daughter, Cassie, helped the veterinarians who were here for herd health day to pregnancy check cows and heifers. Yes, veterinarians don't take snow days either. After helping the vets for half of the day, Cassie then helped feed calves.
Our youngest son, Jacob, was probably the most entertained by the snow, but sadly no snowmen were built despite having an abundance of the white stuff. Jacob didn't have time for that because he was busy helping his mama and two of our employees shovel out all our calf hutches. That proved to be quite the workout. I quickly realized it was okay to skip the gym because I was easily convinced that shoveling calf hutches must have burnt 5,000 calories.
At 5 p.m., the two youngest and I headed inside to unthaw, shower, and relax. I turned the oven back on and Cassie helped me bake cookies for our second-shift employees as a small token of appreciation for all that they do. We are blessed with some of the best guys working for us. Every single employee clocked in on time.
When I thanked them, they replied, "It's our job to show up on time." They also continued to extend their thanks when I helped shovel calf huts, like I was doing them a favor, when in return, I should be thanking them. They were doing us a favor, always willing to go above and beyond to get the job done. It honestly takes a small army to tackle the chore list always, but especially on a snow day.
My kids fell asleep very early that night — on the sofa and in front of an open, warm fireplace. It's a simple recipe — work hard, sleep hard. A formula that I watch my husband illustrate, day-in and day-out. He always asks, "When did I get so old?" in reference to why he can't stay awake past 8 p.m. in the winter months.
Before bed, a flood of emotions overcame me. During the chaos the snow day brought, I was able to slow down just long enough to see some of my life's blessings illustrated that day.
My kids never once complained about having to work outside, all day long in the cold and snow. They seamlessly became part of the workforce and ultimately are the reasons that we were able to successfully get chores done. My Jersey kids suited up and helped out. They worked harder than some grown men do.
Snow days bring joy to most kids, but for farm kids the same excitement isn't shared. Although, I'll admit that when I saw my kids' school scroll across the bottom of the television, I might have breathed a sigh of relief. Not only did that mean I didn't have to try to get them to the bus stop, it meant we had extra help, and truthfully, not only was it appreciated — it was needed.
Around the Kitchen Table is a regular column in Hoard's Dairyman. The author and her husband work in partnership with family on a 500-cow dairy in East Moline, Ill.