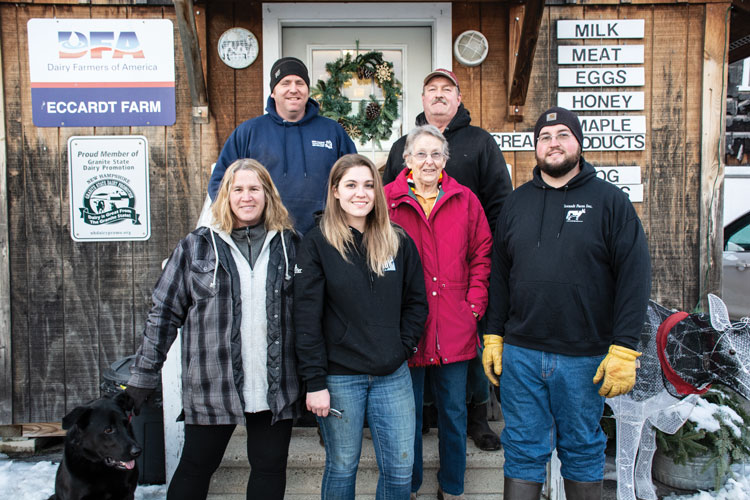 To bring in more income without adding cows, some dairy producers chose to diversify their operations by introducing other revenue streams. No doubt, on-farm processing is becoming a more popular choice, but there are many other opportunities out there.
It can be a balancing act, though, to fit the tasks associated with other enterprises into the already busy schedule of dairy farming. The four farms featured in our Round Table article "They added revenue, not cows" talked about their busiest times of the year and how they handle the extra workload.
To learn more about these diversified dairy farms, you can read the full article, "They added revenue, not cows," in the February 25, 2019, issue of Hoard's Dairyman beginning on page 112.
How do you balance daily dairy chores with other tasks?
Brand Farms, Farmington, Minn.:
The Brand family milks 70 cows and runs an egg laying business and an apple orchard.
Fall is the busiest time of the year. In fact, none of us disagree, it's downright stressful. While we try to finish fourth crop hay, we are also chopping corn silage. And what becomes ripe in September? Honeycrisp apples, and gobs of them. Chopping silage, managing the apple picking crew, and getting the apples placed in cold storage in a timely fashion gets tiring and is a lot to get accomplished some days.
Balancing the dairy and the orchard is tough during the busy time of year, but we push through it the best we can. It takes us a little longer to get the silage chopped, and some days we bring in extra help to get the chores done when we all are busy.
Eccardt Farm, Washington, N.H.:
The Eccard family milks 95 cows. They have an on-farm store to sell milk, meat, and other locally sourced products. They also sell composted manure.
There is not really a busiest time of year for us; things change direction but never slow down. Spring is the craziest compost selling season, while we are also trying to fix pasture fences, check hayfields, and fertilize the fields. All the young stock are still home, too, so they require a lot of time every day cleaning barns and bedding animals.
In the summer, the young stock are all out on pasture so those chores get easier. However, we are cropping constantly from May 20 to October 15. We harvest alfalfa on the 70 acres at home four to five times per year and 250 acres of free-lease land twice per year. The free-lease land is spread out in small fields over a 15 mile radius, so the majority of our time is spent covering all of those acres. The 70 acres at home gets manure spread in between cuttings all summer.
Fall marks the return of all the young stock and their heavier chore load, then it is time to get everything ready for winter. We also spread manure on all of the hay acreage we can get to.
Winter is spent mostly doing chores and cutting firewood, as well as fixing equipment and getting it ready for the next summer. The store is open 365 days a year, and we bring beef to the butcher every month to keep the store stocked.
The daily dairy chores and the beef enterprise are pretty well integrated because the steers and the replacement heifers share the same pens for all the age groups, so it just feels like we have replacement animals for a 150-cow dairy instead of a 90-cow dairy. On a daily basis, George, Ryan, and Mitch get the cows milked, calves fed, and the steers and replacement heifers fed. Then we work through the list of what needs to be done, should be done, could be done, and we would like to get done.
Gunter Farms, Conway, Mo.:
The Gunter family milks 90 cows. They also run a pumpkin patch and corn maze each fall.
Our pumpkin patch is open from the end of September through October. It makes for very busy days getting everything done before the school groups come. The good thing is most of the hay and silage harvesting for the year is finished by that time.
Valley Springs Farm, Reedsburg, Wis.:
Don and Dorothy Harms milk 37 cows and operate a bed and breakfast in their home. They also raise and sell Red Angus beef.
For the bed and breakfast, our busy season runs from May to November, although we do accept reservations all year long. We are located within a half-hour drive from Wisconsin Dells, two popular state parks, and an outdoor theatre.
A wide variety of guests come to our bed and breakfast, ranging from retired couples, families with children, and millennials that really want a local experience. Stays range typically from one to four nights. Dorothy works hard to care for the needs of our guests while maintaining our private life, including having private spaces in our home. She keeps set check-in hours (4 to 6 p.m.) and a set breakfast schedule (usually 8 to 9 a.m.), making sure our guests understand that morning chores and caring for the cows comes first.
For the direct marketing of beef, one Saturday each month is set as a CSA beef pickup day. Other pickup times are scheduled by appointment.
To comment, email your remarks to intel@hoards.com.
(c) Hoard's Dairyman Intel 2019
March 4, 2019