The author and her family own and operate a 570-cow Holstein and Jersey dairy near Berlin, Pa.
Their musical talent brought them together on a stage in Nashville, but their shared backgrounds — dairy farms, large families, and a love for music — ultimately brought Shelby Dressel and Megan Gertken together to form "Dairy Daughters." The duo has been performing together since 2017.
Growing up near Albany, Minn., Gerkten and her five siblings helped out on the 61-cow family farm, feeding cattle, cleaning the barn, and driving equipment. In 2007, when she was 17, the family sold the cows. Four years later, they started up again with dairy goats and currently milk 225 head.
In central Florida, Dressel grew up in a blended family of 11 brothers and sisters on a 1,000-cow dairy on 1,200 acres. The family farm in Avon Park was sold in 1999, but it still continues as a dairy today. Her father continued to work at the dairy after it was sold, so the family remained living on the farm.
Music beamed everywhere
"I always had a love for music growing up," Gertken said. "Music would always be playing everywhere, all genres — country in the barn and the house, oldies out in the shed, and polka to pop music in our lean-to where we kept the horses and the chickens."
Gerken began taking piano lessons when she was 6 years old, practicing before and after chores. As she grew older and her farm workload expanded, her mother still encouraged her to practice daily. It was at a piano recital where she heard her teacher's daughters play violins that she really became excited about music and started violin lessons.
"My sister and I didn't usually need to be told to practice whenever we were working on bluegrass songs for upcoming fiddle contests," Gertken said. "We started taking lessons for classical violin and practiced bluegrass on our own." They traveled all around Minnesota, playing at fiddle contests throughout the summer.
Rocked FFA competition
In Florida, Dressel's family supported her musical interests. She sang in church and with her father, who played in bluegrass, country, and southern rock bands. She entered her first talent contest at an FFA convention and won first place.
"That made me take things a little more seriously," she said. "I started playing guitar when I was 17, and later made it to the top 46 during 'American Idol's' Season 9, and performed on 'The Ellen DeGeneres Show.'"
While the two were growing up a thousand miles apart, they both visited Nashville at different times, experiencing Music City and loving its musical energy.
At 16, Gertken and her local band Heartbreak Ridge made a trip to Nashville and played spontaneously at a few of the bars downtown. Two years later, she and her sister visited Nashville again, to see if it was where she wanted to live. Playing in the downtown bars, they won tickets to the Country Music Association (CMA) Awards. One more trip a year later, this time for a month, sealed the deal — she returned home and three weeks later was packed and moving to Nashville.
Dressel, who always enjoyed music and singing, didn't start actually writing songs until she taught herself to play guitar. She first visited Nashville when she was 16, auditioning with a childhood friend for "Can You Duet?" "After my experience on American Idol, I knew I wanted to pursue music full time," she said.
A dairy duo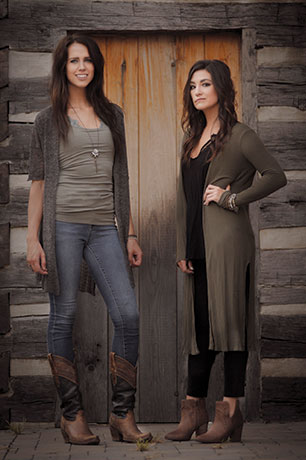 The two met while they were playing music together at Tootsie's Orchid Lounge, sharing the stage in the same band from time to time. They became friends, and when they learned they shared the same dairy farm background, "something just clicked," Dressel said. "We started writing songs together, and we loved the same kind of 90's country music and had the same influences. I feel like we incorporate those influences into our music by staying true to how those artists have inspired us with melodies and storytelling."
The two said highlights of their music career so far include opening for the Bellamy Brothers and meeting many of their favorite artists, but another would be the success they have had on their own, including the release of their first album.
"We started from the ground up, saving money from selling our first two-song CD at shows and selling merchandise until we met our goal of what we needed to record our first album," Dressel said. "It's something we are very proud of."
Their farm influences — daily chores, livestock competitions, FFA experiences, and working with family members — also gave them skills they have carried into their everyday lives.
"We keep our songs real and true to who we are and I feel like anyone can relate and make it true to their story as well," Gertken said. "When writing a song, we think about the different experiences we have been through. It might start with a story or a line or a melody, and that's how the song is brought to life."
Their most recent release, "Mountains," is an example of that, and it is inspired by Dressel's mother who passed away from cancer. They went a step further and asked their Facebook followers to share their own photos of loved ones, and then made a video with the photos and their music in the background. The song debuted in January, and they released the video on Facebook on Valentine's Day.
The duo has traveled extensively throughout the United States, playing small venues, saloons, backyard festivals, and outdoor shows, as well as opening for large acts. "It's always a lot of fun playing to large crowds," Gertken said. "The energy is totally different than playing to a small crowd, but we definitely enjoy the smaller, more intimate settings as well."
A favorite venue
One of their favorite venues was playing at the Dairy Girl Network Convention in Pennsylvania in 2018. "It was so cool connecting with all those women who share similar backgrounds from growing up and working on farms and sharing our story with them," Dressel said.
Despite the miles traveled and time spent on the road, the duo makes it a priority to stay connected to their families. "We are both very grounded when it comes to home — family is everything," Gertken said. "We try to go home every few months, and it's great being able to bring our music home with us and reconnect with that piece of life that made us who we are."
Looking to the future, they would both like to continue writing and playing music. "We are already excited about our next project and have tons of songs we can't wait for people to hear," Dressel said. "We are very proud of this career we have built from the ground up. It can be really challenging, but we both love what we do and watching Dairy Daughters grow to be what it is today."