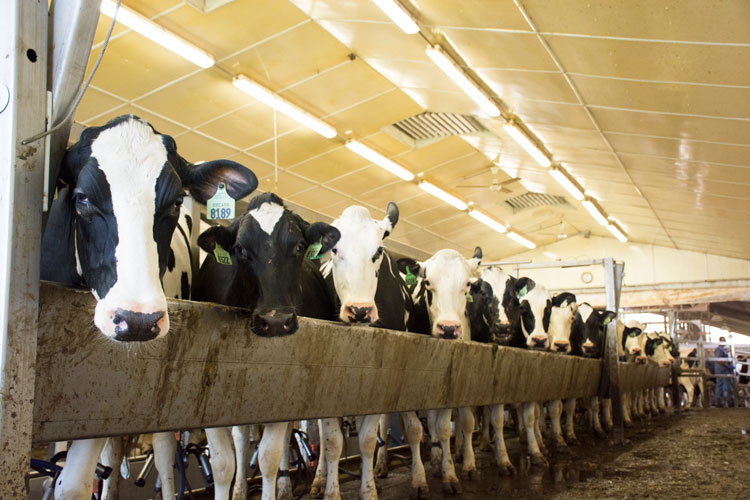 We've heard the stories of milk being dumped in pockets of the country as processors reach their capacities because of the drastic change in demand from COVID-19.
Some processing changes are being made to divert milk to other channels, such as food banks, and free up facility space, but still some dairy farmers are being asked or simply required to reduce their milk production — a quite unusual circumstance for an industry that continues to improve production and efficiency in order to feed a growing population.
What strategies can dairymen and dairywomen implement to meet these production restraints? That will be the discussion during the next DairyLivestream broadcast on Wednesday, April 29 at 11 a.m. (CDT).
Special guests for the episode will be Cornell University's Jason Karszes and the University of Illinois' Michael Hutjens. They will join weekly DairyLivestream commentators Mark Stephenson, Chris Wolf, and Corey Geiger.
This week, Hutjens will explain the potential for immediate nutrition adjustments, while Karszes will detail some comprehensive farm management ideas. From the business side, Wolf will dig into short- and long-term expense strategies, and Stephenson will discuss regional issues and considerations for co-ops.
Register for the web meeting event and email reminders here. If you've signed up for previous DairyLivestreams, you are already registered for this and future events.
The presentation portion of the broadcast will last approximately 30 minutes, then the panelists will answer audience questions. You may submit questions ahead of time by sending them to livestream@hoards.com.
An ongoing series of events
Archive presentations of the previous two DairyLivestream broadcasts are also available. The April 15 conversation focused on effects of milk dumping on the markets, and the April 22 event discussed how producer organizations and USDA are diverting dairy products to where it can be used.
The broadcasts will continue to dissect various aspects of the dairy markets over the coming weeks. Join us each Wednesday at 11 a.m. (CDT) to hear from dairy leaders and experts.