The author and her family own and operate a 570-cow Holstein and Jersey dairy near Berlin, Pa.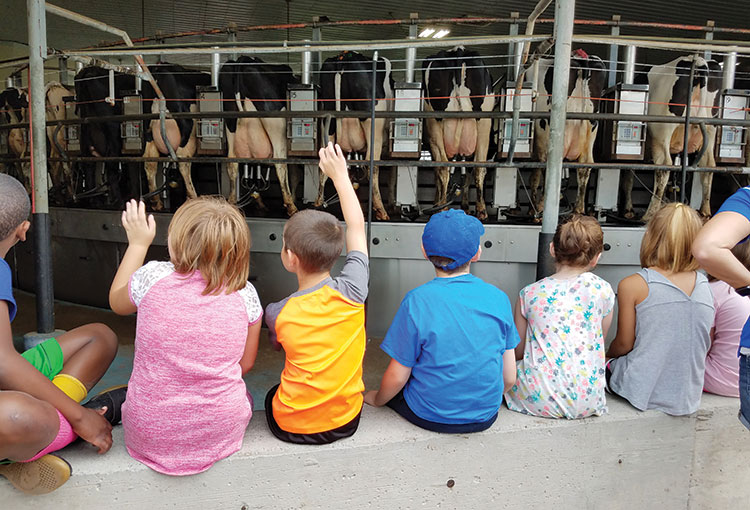 Decades ago, rural communities were filled with farmers who knew their neighbors and residents who knew the challenges of living near farmers. Today, with fewer farms and more nonfarm neighbors, it's important to foster good relations between the two.
One dairy in western New York has made it a priority to maintain positive neighbor relationships. With multiple farm locations, it is a challenging task, but the Lamb family believes the efforts are worthwhile.
Lamb Farms, with locations in New York and Ohio, is a partnership between the Lamb and Veazey families. Among the business owners are Matthew and Jonathan Lamb, who are 12th generation farmers. In all, 11 family members are currently involved in the farm enterprise; the Veazey family manages the office and cropping operations, while the Lambs manage the dairy side.
With 12,000 acres of crops in New York and 1,400 acres in Ohio, and thousands of animals on multiple properties, the impact of the farms within the communities is substantial. Recognizing this, the Lambs use several strategies to reach their neighbors and share the farm's stories.
"As our farm has grown over the years, the families have felt that it's important to keep good neighbor relations," Kendra Lamb said. "We want to have some goodwill in the bank with the community so that they hopefully have more patience with us, or give us the benefit of the doubt if there are difficulties."
Historically, property owners who border their fields or in close proximity received holiday gift bags with local dairy products. Local residents often take advantage of the parlor observation area, which is open to the public 24 hours a day, seven days a week, to watch the milking process.
"Farm tours are another way that we stay engaged with our community," said Kendra, who is married to Matthew. "Pre-COVID, we would usually host 40 to 50 groups each year of all sizes, and I still think that the farm tours are the most impactful thing that I am involved in with advocacy."
Lamb Farms has two farms in Oakfield, N.Y., with 2,400 milking cows at the home farm and 1,300 cows at "Farm 2" located 5 miles away. All of the calves from the two farms are raised at their calf facility in Oakfield. The operation also includes Lakeshore Dairy in Wilson, N.Y., with 2,000 cows, and Convoy Dairy in Convoy, Ohio, with 1,800 cows. Each of those sites raises their own calves. All of the heifers eventually arrive at their heifer facility in the town of Alabama, N.Y.
Back to the basics
The farm publishes neighbor newsletters, which are mailed to nearby residents. While the idea of a paper newsletter might seem old-fashioned, Kendra said the responses have been positive. With help from the New York Animal Ag Coalition (NYAAC), the Lambs design, print, and mail newsletters that include farm facts, timely articles, and photos.
"When we send them out, they seem to be well-received," she said. "We did have neighbors reach out specifically to say they love the newsletter or to just tell us we are doing a great job." Popular topics included stories about the people at the farm, family members, and a recent recognition of longtime employees.
"The newsletters have also been really helpful at Lakeshore and Convoy where we don't reside in those communities," she added. "They want to know who the family is behind the farm and to feel like they know more about what we do." Kendra can select local mail routes near the farm, and the newsletter is delivered to each mailbox along that route.
Lamb Farms also has a Facebook page, which allows them to share their story with a larger audience. "We have developed a great following, and we have received many positive comments and interactions as a result of the page," Kendra said.
In addition, simple things like keeping farmsteads neat and tidy, addressing any grievances, and being active in the communities can go a long way, added Alicia Lamb, who is married to Jonathan. She and Kendra work together on ag advocacy.
"One of the greatest ways to support the dairy industry as a whole is to promote it in a positive light," Alicia said. "While we live in a relatively rural community, many people in other areas are extremely removed from the farm and don't understand the reasons we do certain things. One of the main ways to maintain that positive farm image is by keeping the farms clean and well-presented, like mowing the grass, keeping driveways in good repair, and planting flowers.
"When the equipment is in the field, especially when it's muddy, we make an effort to scrape the roads clean and work hard to keep dust down in the driveways," Alicia said. "Those added tasks do nothing to help the bottom line but are appreciated by the general public. There is nothing more damaging to the dairy industry than seeing a dirty, smelly farm in disrepair."
Be a friendly neighbor
Kendra added they are fortunate that much of the community is very understanding about the farm traffic and large equipment on the roads. "Whenever possible, we try to utilize other avenues to get the work done without adding to traffic, like underground pipes to allow for drag lining for manure application instead of tanker trucks on the road," she said. Close to 15 miles of dragline have been constructed.
Additionally, the farm has installed off-site lagoons that are located far off the roads, helping reduce odors and visibility of the lagoons.
When problems or grievances arise, the Lambs take the time to address the situation. "We usually try to be mindful of weekends and holidays for manure spreading near houses, but occasionally there can be a neighbor who doesn't want manure spread by their house ever," Kendra said. "It's relatively uncommon, but we take time to visit with them and try to find some common ground."
The two women recognize the value of reaching out to neighbors and acting as advocates for dairy, but they also said it can be overwhelming to consider all the possibilities. Finding another farm who has had success, as well as reaching out to a dairy advocacy group, can be helpful.
"Evaluating what is the best fit for a farm's skill set, interests, and logistics is a good way to start," Kendra said. "It's definitely worthwhile to invest in good neighbor relations."