There has been a sharp slowdown in milk production in both the U.S. and the European Union. Feed costs rose quickly, with nearby corn futures going from $3.40 per bushel in early September last year to a peak of $7.44 by early May here at home. The higher feed costs were pushing down our milk production forecasts for the second half of 2021 . . . the slowdown has been even more dramatic than expected.
There is almost always a lag, which typically runs between three and six months, between feed prices and change in milk production. So, the spike in feed costs in early 2021 didn't impact milk production much during the first half of the year. But the USDA just released the August Milk Production report showing that U.S. milk production was up a mere 1.1% from last year in August. This was well below what I was forecasting (+2.2%). It's also the slowest growth that we've seen in a year.
But I want to be a little cautious here. The USDA gave us a head fake with the January Milk Production report this year. They initially reported production was only up 1.6% from last year. That, too, was a dramatic slowdown and well below what I was forecasting. The straight answer came the very next month when USDA revised to a 2.4% growth for January milk in subsequent reports.
So, it is possible the number will be revised higher. However, with dairy cow slaughter running strong, and the number of dairy cows in the U.S. trending lower, U.S. milk production growth should stay between 0.5% and 1.5% through the middle of next year.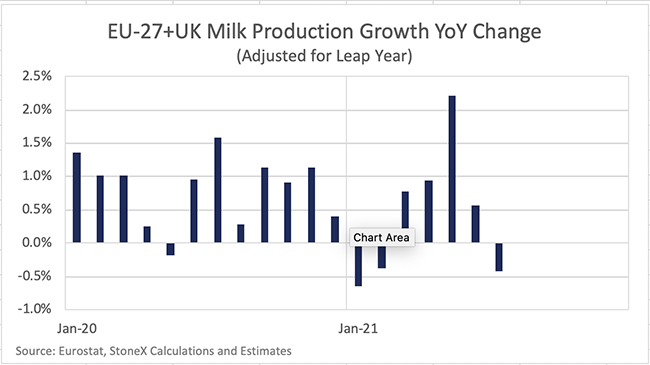 Milk production in Europe started the year weak due to some adverse weather conditions. Even so, growth rebounded in the second quarter. However, that situation has shifted as feed costs have increased around the world, resulting in EU farmers cutting back on supplemental feed. As a result, this combined action pushed milk production in July down 0.5% compared to last year. Anecdotally, production has stayed weak in August and early September as well. Production for the region is expected to be flat or down a little for the remainder of the year.
Milk production in the Southern Hemisphere is doing a little better, with New Zealand expected to be up 1% to 2% this season, Australia expected to be up about 1%, and Argentina's production also growing. These three nations, when added to the U.S. and European Union, make up the world's five largest dairy exporters. However, when we look at total milk production across the major exporters, their growth is expected to slow from 2.7% in the first half of this year to just 0.9% growth in the second half of the year.
Supply is only half of the equation that determines prices. At least in the short term, good demand is coming up against the tightening supply, and we've seen prices increase across all the exporters during August and the first half of September. While we need to be a little cautious around the USDA's initial estimate for August milk production, the trend is clearly toward weaker production growth during the second half of the year in the Northern Hemisphere. If you combine that with modest growth in the Southern Hemisphere, the supply side looks supportive for prices. I'm not arguing for sharply higher dairy prices unless demand turns out much better than expected, but at least the supply side is encouraging.
To comment, email your remarks to intel@hoards.com.
(c) Hoard's Dairyman Intel 2021
September 27, 2021