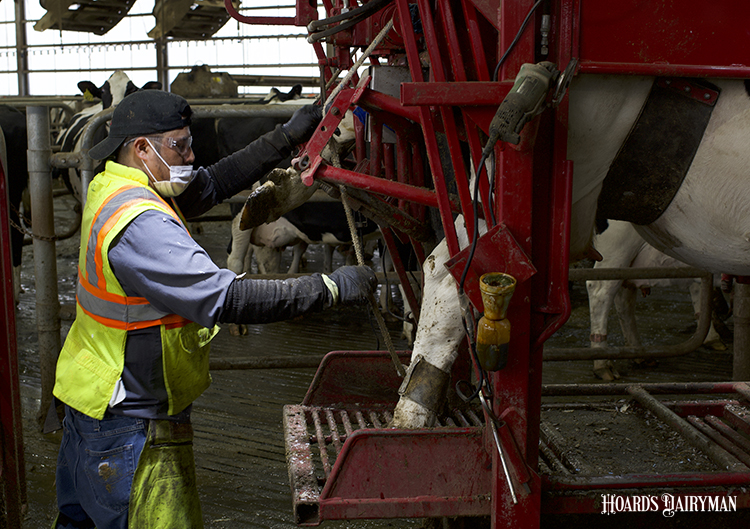 No dairy farmer wants lame cows in their barn. No consumer wants to see cows struggling with lameness, either. Both of those concerns are at the center of the Council on Dairy Cattle Breeding's (CDCB) effort to reduce hoof issues through genetic selection.
During the CDCB Industry Meeting last week, collaborators of the project to drill down on the sources of lameness and how to control them emphasized that this is an area in need of coordination. Gerard Cramer, an associate professor at the University of Minnesota who's leading the project, said that if we assume digital dermatitis is controlled, the biggest bottleneck in controlling lameness is finding those cows that are lame.
"This is the biggest thing most dairies can start doing tomorrow," he noted.
Anyone who has worked with cows knows why identifying lameness is difficult. Locomotion scoring is not only time-consuming, but it's also subjective and can vary greatly from day to day or between evaluators. That's why Cramer believes it's time for the industry to take action to help identify lame cows.
Hundreds of hoof trimmers already collect information about hoof and sole problems of the cows they work on, but this is often kept separately from other herd records or coded in herd management software differently between farms. CDCB geneticist Kristen Parker Gaddis described that these factors make hoof data "noisy," and so the information was not useful to be included when six health traits were introduced into genetic evaluations for Holsteins in April 2018.
Developing a system for this hoof data to be standardized and useful is the first step toward a genetic trait. Hoof health seems to be similar in heritability to other health traits, Gaddis said. But data from Canada shows that when specific hoof conditions are identified, heritability was greater. Therefore, "We really need data beyond just 'yes' or 'no' is the cow lame?" she explained.
Framework
CDCB's project aims to train hoof trimmers to identify and record specific hoof lesions as consistently as possible, Gaddis said. To best use that information, the group will also develop an integrated framework that allows what the trimmer inputs to flow to herd management software and then CDCB.
"What's happening with most of [the software hoof trimmers use] is that this data gets entered into the dairy management software programs, but it gets typed in," Cramer said. "The trimmer prints a list, and then the farm enters all of that information — manually types it in."
He shared that electronic synching is becoming possible on more farms, but to implement that appropriately, the system has to be able to share what data everyone involved on the farm needs (for example, the farm owner, veterinarian, trimmer, genetics company, and others) as well as the greater industry.
Streamlining this data will allow for clearer management tasks on farms, Cramer continued. It would be easier to do things like create trimming lists, follow up on cows that need further attention, monitor incidences over time to optimize trimming or footbath use, and track what specific problems occur when.
"I truly believe that if we implement this appropriately, we can start making decisions and use data instead of going by opinion," he concluded.
To comment, email your remarks to intel@hoards.com.
(c) Hoard's Dairyman Intel 2021
October 25, 2021