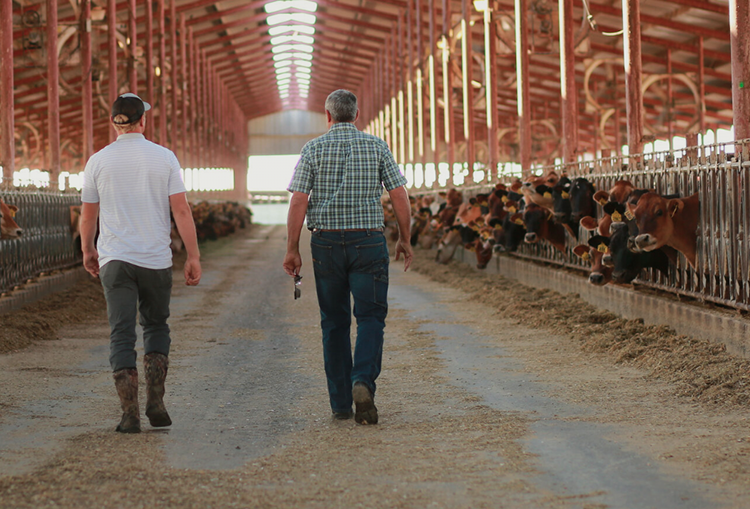 U.S. dairy has demonstrated time and again its environmental achievements. Producing a gallon of milk in 2017 required 30% less water, 21% less land, and had a 19% smaller carbon footprint compared to 2007.
But numbers are only part of the picture.
Behind them are stories of farmers dedicated to environmental stewardship, pursuing innovative farming practices, improved productivity and animal health, advanced technology use, and more, furthering U.S. dairy's role as an environmental leader.
Dave and Marie Graybill of Red Sunset Farm in Mifflintown, Pa., for example, implement more than 30 conservation practices including cover crops, nutrient management, buffer strips, contour farming, wildlife habitat, and more. That comprehensive approach results in measurable impact: A rough estimate of their in-field practices shows a reduction in annual losses of 2,443 pounds of nitrogen, 116 pounds of phosphorus, and 255,000 pounds of total suspended solids.
Goodrich Farm in Salisbury, Vt., installed a 1.32 million-gallon anaerobic digester that has reduced the farm's greenhouse gas emissions by as much as 95% and lowered the farm's chemical fertilizer expenses by 80% to 85%. The digester enables the farm, managed by siblings Chase and Danielle Goodrich, to recycle more than 30,000 tons of manure and 66,000 tons of nonfarm organics from Vermont food manufacturers, retailers, and others.
Meanwhile, for Austin Allred at Royal Dairy in Royal City, Wash., innovation takes the form of worms. The farm has a worm-based filtration system for wastewater that removes more than 90% of total nitrogen and suspended solids while also carrying significant greenhouse gas benefits.
Innovation at the farm level inspires our industry-wide initiatives to evolve over time and match farmers' impressive pace of progress. The National Dairy FARM Environmental Stewardship (ES) Program, in fact, is pursuing exciting upgrades through careful consultation with farmers and other stakeholders for its next release in 2024. FARM ES quantifies a farm's current environmental footprint – focusing on greenhouse gas emissions and energy – and tracks improvements over time. Dairy cooperatives and processors can aggregate that information to share farmers' stories with supply chain customers and consumers.
National Milk Producers Federation and the Innovation Center for U.S. Dairy are collaborating to update the greenhouse gas (GHG) model that powers FARM ES. When the latest FARM ES version is launched in 2024, the program will transition to a "process-based" model through work with the Ruminant Farm Systems (RuFaS) – an initiative involving researchers from across the country focused on environmental modeling of dairy farms. Shifting to a process-based model means better functionality and insights to help farmers do what they do every day – continue to innovate and improve. The benefits include:
• A more robust and accurate model while remaining practical and easy to use
• Support for informed decision-making when considering adoption of practices and technologies through farm-level environmental and economic scenario analyses
• Increased functions to enable farmers, cooperatives, and processors to work with supply chain customers interested in investing in on-farm solutions and GHG reductions
The research through RuFaS is cutting-edge – mirroring and inspired by the leading work happening on farms of all sizes, in all regions, nationwide, every day. Through this upgrade, FARM ES will be positioned to better support the dairy community's efforts to achieve our collective 2050 environmental stewardship goals, including to become GHG neutral.
Farmers are the original innovators and stewards; industry-wide initiatives like FARM ES offer valuable insights and resources to support those efforts. The results can be seen on farms across the country – and by farmers and consumers worldwide.
To comment, email your remarks to intel@hoards.com.
(c) Hoard's Dairyman Intel 2022
April 18, 2022