The information below has been supplied by dairy marketers and other industry organizations. It has not been edited, verified or endorsed by Hoard's Dairyman.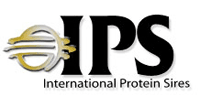 The April sire summaries surfaced new genetic leaders at International Protein Sires (IPS). "Through the recent sire summaries, we are excited with these new Holstein genetic leaders. Trends around the world show an increased demand for sires identified as A2A2 along with polled genetics. These new leaders at IPS fulfill these requirements. More significantly, these genetic leaders support our objective of "Breeding Cows, Not Numbers," said Ron Sersland, President, and CEO.
566HO1354 MAKE PEACE is the newest IPS leader at +3036 GTPI. MAKE PEACE is a member of the Holstein Association's Top 100 GTPI Genomic Sires. Among his prestigious Top 100 peers, MAKE PEACE transmits a rare combination with a minimum +1,355 lbs. milk, +1.51 type, +0.7 DPR. He is also the lowest for EFI% at 15. In addition, MAKE PEACE excels in components, at +100 lbs. (+.16%) fat and +56 lbs. (+.05%) protein. These qualities are bolstered with 2.2% calving ease, 2.69 somatic cell score, +6.2 productive life and +1021 NM$. A qualifying pedigree, MAKE PEACE is sired by Fortnite from a promising young daughter of Renegade.

<!-no ad-->
566HO1352 SHOWBIZ enters the IPS lineup at +2995 GTPI. This classy young sire upholds the IPS tradition of high components; +95 lbs. (+.22%) fat and + 44 lbs. (+.06%) protein. Performance comes in at a sterling +850 lbs. milk. SHOWBIZ is also solid for type across the board; +1.58 type, +1.71 UDC, along with +1.40 FLC. Additional traits include 6.1 productive life and 2.4% calving ease. For the followers of aAa, SHOWBIZ is identified, 462513. Sired by Logistics, SHOWBIZ is from an up and coming daughter of Future. His impressive cow family traces to the breed elite Rudolph daughter, Westwood-HC Rudy Missy (EX-92-GMD).
566HO1351 EASY-OFF PP RC is the #1 Red Carrier GTPI homozygous polled Holstein at +2713 GTPI. This standing makes EASY-OFF PP RC a high demand sire worldwide. His name says it all – EASY-OFF for complete horn removal. EASY-OFF PP RC has superior performance credentials: +938 lbs. milk, +68 lbs. (+.11%) fat, and +44 lbs. (+.05%) protein. These traits are complemented by +1.09 type, and +1.52 UDC. EASY-OFF PP RC is identified as A2A2 and 2.3% calving ease. His analysis code assigned by aAa is 516342, rare attributes in the Holstein breed. EASY-OFF PP RC is a Boeing son from a Very-Good two-year-old daughter of Riveting. His impressive cow family also traces to the elite Rudolph daughter, Westwood-HC Rudy Missy (EX-92-GMD).

566HO1337 BY THE WAY-RED PP continues in the spotlight at +2602 GTPI. This marks the sixth consecutive sire summary where he is the #1 homozygous polled Red & White Holstein. BY THE WAY-RED PP offers the desirable balance between superior performance and quality type. At +712 lbs. milk, BY THE WAY-RED PP also improves component test; +.03% fat and +.05% protein. His notable type traits are +1.57 type and +1.23 UDC. Sired by Webster-P, BY THE WAY-RED PP is from a Very Good-87 two-year-old daughter of Jax-P. And he descends from a cow family with highly classified cows, possessing high component test.
These quality leaders add genetic power to the IPS Holstein sire lineup. Their injection into any herd will assure long lasting high performing dairy cattle. IPS semen is available throughout North America and around the world from company employees and independent distributors. Located in Rock Springs, Wisconsin, you may obtain additional information about IPS through their website, www.ipssires.com or by calling toll free: 1.800.542.7593