Group housing for preweaned calves often comes with an investment in automated feeders, but it doesn't have to. The Paxton family of Grove City, Pa., is a working example of this.
At Irishtown Acres Jerseys, they have been batch feeding calves for more than 20 years, and they designed a simple way to get the job done. Agricultural engineer John Tyson shared details about their system during a Penn State Extension webinar.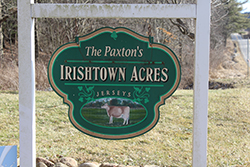 The Paxtons milk about 520 cows and raise their replacements, along with some crossbred calves. When calves are born, they spend the first 10 days of life in individual hutches before moving as a group into a pen of eight or nine calves. These pens are 12 feet wide and 24 feet long, and they provide 32 to 36 square feet per calf.
The building, which is 36 feet by 120 feet, is naturally ventilated with curtains on three sides. There is a service alley in the front and back of the pens. Grain is stored in the barn, and bedding is kept just outside of it.
Tyson explained that milk is delivered through homemade feeders. They are made using a large plastic barrel with the top cut off except for the handle. Each barrel has 10 nipples connected to tubes that extend to the bottom of the barrel. This provides one or two more nipples than are head in the pen, giving calves enough access to drink milk.
Calves are fed pasteurized milk. The barrels are filled in the milkhouse and then moved to the calf barn on the back of a utility vehicle or using a wagon. The barrels are placed in the pen and set onto a 15-inch tire so the calves don't tip it over.
Tyson said that calves are fed 1 gallon per feeding, twice a day. The calves have access to free choice water and grain, and high-quality grass hay is also available.
Caring for these calves and a neighboring barn of weaned calves is a two-person job. In all, the farm has four people who are involved with calf care.
"Observation during feeding is the critical component of this system," Tyson noted. "Healthy calves should be competitive during feeding and very active when the feeder is in the pen." He said they watch for animals that hang back, as that could be an early sign of a calf not feeling well.
After feeding, the barrels are taken back to the milkhouse to be washed and evaluated for wear and tear. Nipples and hoses are replaced as needed.
Benefits of the system are ease of feeding, Tyson shared, which allows more time to observe animals. Animals are also adapted to herd living at an earlier age.
Tyson said the farm has experienced very few calf health problems over the past two decades. That's not to say that issues haven't come up, but they found that challenges were linked to other management areas, such as the starter being fed or calving pen issues, and not caused by group housing.
"Observation is the biggest tool in group housing," Tyson reiterated. No matter what feeding system is used, calves housed in a group setting should be watched closely to pick up early indications that something is awry.
To comment, email your remarks to intel@hoards.com.
(c) Hoard's Dairyman Intel 2022
May 12, 2022