The information below has been supplied by dairy marketers and other industry organizations. It has not been edited, verified or endorsed by Hoard's Dairyman.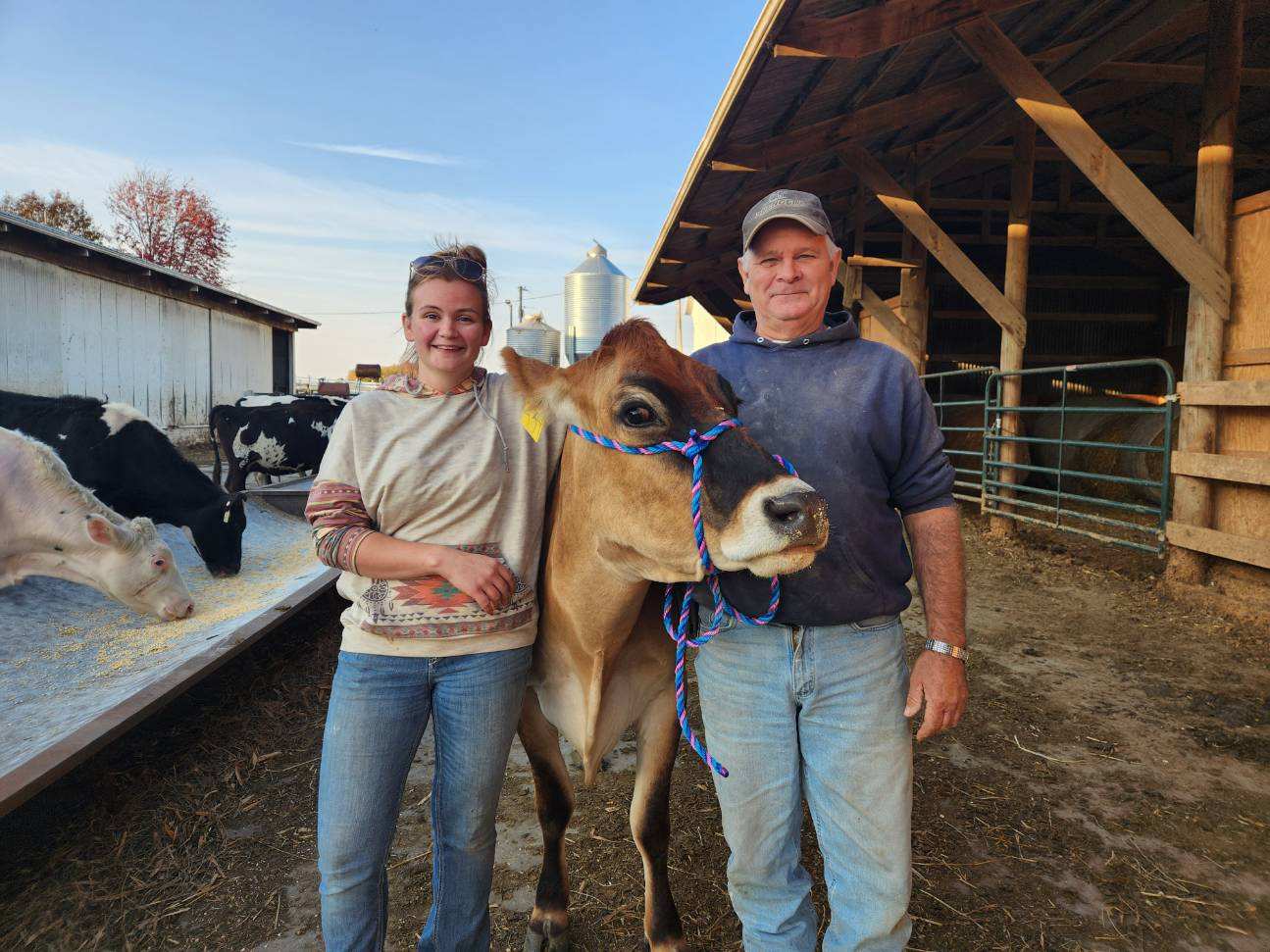 Emily Stevens decided to follow in her father's footsteps by not only pursuing a career in the dairy industry as he did but also at the same college he did – 6 1/2 hours, 400 miles away from her home in Milton, Indiana.
Stevens moved to Cleveland in fall to start in Lakeshore Technical College's dairy herd management program. The 2022 graduate of Connersville Sr. High School in Indiana grew up on her family's farm, loving the dairy industry.
"I understand cows more than I do people sometimes," says Stevens.
"Emily was in the dairy barn since she came home from the hospital," says her dad, John Stevens, who was not surprised when Emily expressed her interest in pursuing a career in the dairy industry.
According to Emily, she originally thought she wanted to be a veterinarian, though figured she'd get bored. She often found herself bored sitting in her high school classrooms learning, wanting to do something hands-on. One day while talking with her dad about her future, she says he told her about the great education experience he had at Lakeshore Technical College. It was then Emily decided to follow his path.

<!-no ad-->
Born and raised in Indiana, John is a 1984 graduate of Lakeshore's dairy herd management program. John's family raised cows and hogs. John says he favored working with the cows so much that his parents encouraged him to go to school for something related to cows. They found an ad for Lakeshore's dairy programs in a Hoard's Dairyman farming magazine and made the trip to Cleveland to visit campus.
John was accepted at Lakeshore and got connected with Edward Klessig at Saxon Homestead Farm, near Cleveland, for an internship and housing. After graduating, he moved back to Indiana to work on a farm close to his home. John later bought his own farm where he and his family milked over 100 cows for many years.
After leaving Wisconsin, John kept in touch with the Klessig family. When Emily decided to attend Lakeshore, he called Carl Klessig to share the news that his former intern's daughter was going to follow in her dad's footsteps.
Learning Like Dad, Interning Like Dad
In addition to attending the same college her dad did, Emily is also interning at the same farm he did. She works 25-30 hours a week at Saxon Homestead Farm. Like the Klessig family did for John, they also arranged housing for Emily. Emily says she enjoys doing pretty much anything they need her to do, which is mostly milking and scraping. She has also helped with a few calves and treated sick cows.
"The variety that Saxon has and being outdoors is awesome," says Emily. "Also, the work environment is great, everyone looks out for everyone and works together, because dairy farming isn't easy but having a good team makes it a lot easier."

Wisconsin's Dairy Industry Differs from Indiana's
According to Emily, the dairy industry in Wisconsin is more modern than what she sees in Indiana and what she had on her home farm. "We didn't have computerized records and/or any monitoring system, head locks, or a freestall barn."
John says the industry overall and the education needed are very different from his earlier days. "There's a lot more technology and dairies are so much bigger than years ago."
Emily plans on graduating in spring. From there, she wants to work in the dairy industry, possibly find a niche she enjoys, and learn more about it.

"Eventually I want to move and stay in Wisconsin because there's a lot more and better employment opportunities," says Emily. Lakeshore's most recent graduate survey shows 100% of graduates from its dairy herd management program and agribusiness science and technology program were employed within six months of graduating.
For information about Lakeshore Technical College's agriculture programs, which often draw students from outside Wisconsin, visit gotoltc.edu/programs-and-courses/degree-programs.