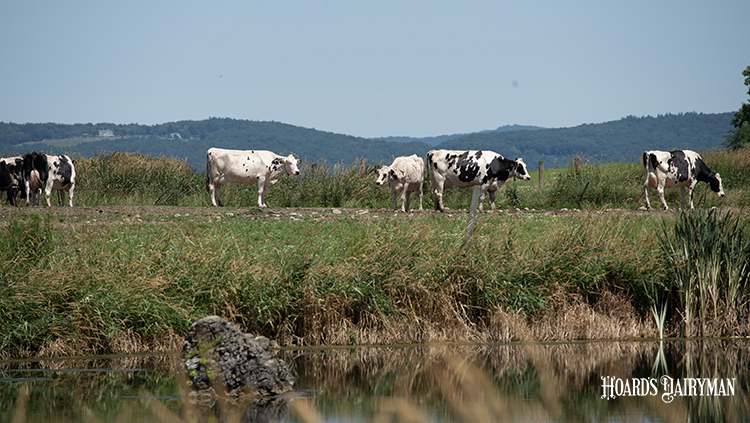 Stewarding the health of their land, water, air, and animals is something dairy farmers have been doing for generations. Putting benchmarks and numbers on those efforts is a much more recent need.
Like any business selling a good, once our milk leaves the farm, its value is open for interpretation by the rest of its supply chain. That value is increasingly enhanced or reduced by milk's environmental effects. And while grocery shoppers are a part of the movement, food customers, retailers, and investors are driving much of the conversation around a product's sustainability.
Katie Morison is the manager of responsible sourcing at The Hershey Company, one dairy buyer that has established environmental and sustainability goals for its dairy supply chain, among its other ingredients such as cocoa and sugar. That's because their consumers are their most important stakeholders, Morison said, and according to their research, 70% of people say sustainability matters to them.
However, she also explained during a panel discussion at the Pennsylvania Dairy Summit that most consumers are not yet willing to pay more for products identified as more sustainable. For Hershey, it is mostly the companies retailing their products and their investors that are calling for sustainability goals and more transparency throughout the supply chain, Morison said.

Why? "The reason that we're getting pressure from stakeholders is that we're all looking at the changing climate and how hard it already is to get our ingredients," she said.
Hershey's environmental goal that encompasses their suppliers — such as dairy farmers — is to reduce greenhouse gas emissions by 25% by 2030. They are working with these groups on environmental solutions, but Morison noted they will rely on their supply chain and stakeholders to make change happen.
For dairy, that means farmers will need tools and opportunities they can implement in a financially sustainable way that helps meet these goals. One Pennsylvania farmer, Brett Reinford, discussed his family's addition of anaerobic digesters and adoption of cover cropping and no-till. Part of the reason for these practices is that they want to ensure a home for their milk, he said. He believes a day will come when dairy buyers will choose what farms they will work with based on which ones meet their environmental goals.

"It will become a more formal part of how we evaluate our suppliers," Morison agreed, although she also explained that sustainability will not cancel out other factors they consider when building those relationships.
Labelling certain products as more "sustainable" than others is a slippery slope because all milk has a seat that table, noted Stan Erwine of Dairy Management Inc. Every farm is already doing things that leave their environment better than it was. Adding tools to that toolbox will be what helps farms continue to meet the needs of dairy buyers, and that will require the entire value chain, he continued.
To comment, email your remarks to intel@hoards.com.
(c) Hoard's Dairyman Intel 2023
March 9, 2023