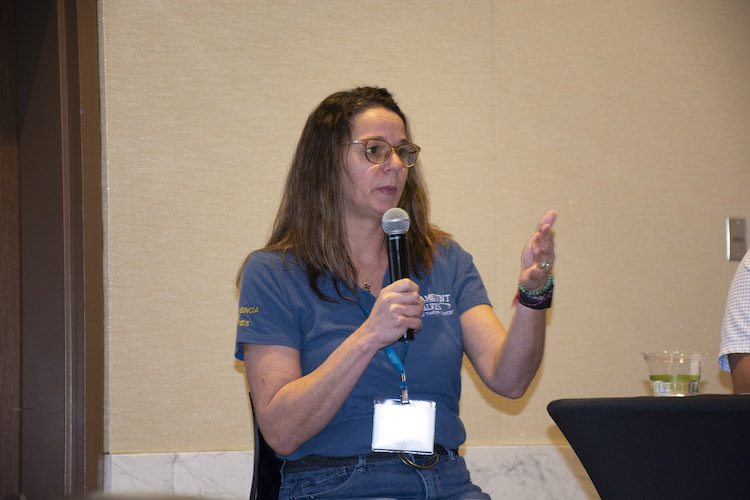 A dedicated team is one major key to success when it comes to raising young stock. During the Dairy Calf and Heifer Association's annual conference, managers from two calf and heifer ranches shared a few details on how they find — and keep — great employees.
Sarah Daugherty serves as the workforce development manager at Paramount Calves in Darlington, Wis. At that location, they raise calves up to 6 months of age and split their staff into teams to get the work done.
When Daugherty first joined the business, she separated the teams by different colored sweatshirts as a way for her to help learn everyone's names and duties. That change quickly revealed other benefits, though, as it helped build team recognition and enhanced the pride people had for their team.
"We try to make our teams accountable to each other," Daugherty noted. She said that they don't have people come to work late or not show up, but it is not to impress their managers — it is because they don't want to let their teammates down.
For Clint Al-ag, a heifer yard manager for Blue Sky Farms in Friona, Texas, they work hard to instill the farm's six core values in new employees during their 90-day probation period.
"We set expectations on day one," he said. "That is one thing we found to be very helpful." Following some video training, new employees then work hands-on with their manager to learn what needs to be done and why.
"Explaining the 'why' has really helped us get guys sped up and up to our pace quickly," Al-ag shared.
Both Daugherty and Al-ag agreed that word of mouth is their best recruitment tool for new employees.
"Our employees are our biggest recruiters, there is no way around that," Al-ag said. If current employees have negative things to say about your company," he said. "It doesn't make people want to come work for you. "Your employees are your biggest advocates," he stated.
Daugherty said they don't do any advertising for open positions; they also rely on their reputation and connections that often come through their current work staff. "Attracting employees is about doing a good job with the people we have," she said.
She also said that it helps to be located near communities that are welcoming to a migrant population. This includes places where their children can go to school and resources for transplants to the area.
To keep employees motivated, Daugherty said education is big. They use video training to teach animal handling, and a consulting business comes to the farm quarterly to help with other trainings. People at the manager level recently participated in a leadership training, which received positive reviews from the staff. They also strive to teach employees how their job fits into the bigger picture of raising healthy calves.
Blue Sky Farms invested in an online portal to gather all of their training materials. Staff members are trained at onboarding and then yearly, and Al-ag said this tool has helped a lot.
He also aims to provide consistent feedback. He said it is easy to critique the crew when mistakes are being made, but when things are going well, those should be celebrated. It has worked for their farm to set goals, and when they are reached, they host a party as a reward. This motivates people and builds camaraderie.
Daugherty agreed, noting that they have a soccer field right on the farm and a soccer team comprised of farm staff.
"It encourages them to work together and have fun together," she said. "That matters, too."
To comment, email your remarks to intel@hoards.com.
(c) Hoard's Dairyman Intel 2023
April 20, 2023