Whether it's showing, judging or dairy bowl, everyone starts at the beginning. Often times an older sibling shows the younger ones the ropes. Other times, parents were the first to share their knowledge with the newbies. Unfortunately, not everyone has older siblings, parents or advisers who are experts.
California junior members have had great success over the past seven years in junior Holstein dairy bowl contests, winning the national junior division three times and reserves in two more. Pennsylvania has the most overall wins, including three national junior titles in the past seven years. Pennsylvania, the largest junior association has five times the membership of California. Because of its smaller membership, California selects the top four individuals, regardless of location, to represent the state at the national contest. Larger states, like Pennsylvania, reward the state's winning county team with a trip to nationals.
The California contest generally has four county junior teams competing. They also have a novice division for those ages 9 to 12 in their first or second year of competing. It gives these youngsters a chance to "play" dairy bowl, rather than "compete." But, don't let the name fool you. The same rules apply and the questions are just a shade easier than the juniors. They have fun without realizing they were "studying" for a "contest". What they learn helps them advance, prepared for the junior division in future years. Self-confidence and speaking ability are developed before they learn what being nervous means. It's the groundwork for these novices that hopefully encourages participation in the future.
The national Holstein junior dairy bowl contest began in 1986, while the senior division had its start in 1980. In the initial year, California sent a junior team to the single-elimination contest and placed second. After a third place finish in 1988, they did not resurface in the junior finals until 2007. Since then, they've become one of the most prepared teams. In addition to local coaches, Kirsten Areias, a full-time dairy farmer and junior adviser, coaches for nationals.
In February, I attended World Ag Expo and was working in the
Hoard's Dairyman
booth when a young girl, Hayley Fernandes, approached and asked about
Hoard's Dairyman
questions in the dairy bowl contest. It was her first year in dairy bowl and would compete at the national contest in Indianapolis. A while later she returned with her family. They thanked me for appeasing their daughter's newly-found addiction to dairy bowl.
Hayley willingly agreed to share some of her study methods with
Hoard's Dairyman
to help new participants prepare. The best technique she uses are note cards that she diligently wrote herself. (Writing the cards was a great study technique in itself.) While she may be short on years of experience, she has proven that studying pays dividends.
Watch the video to learn a bit more about Hayley and her studying.

---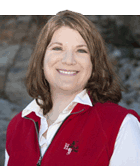 The author is the online media manager and is responsible for the website, webinars and social media. A graduate of Modesto Junior College and Fresno State, she was raised on a California dairy and frequently blogs on youth programs and consumer issues.