One of Albert Einstein's famous quotes is, "Insanity is doing the same thing over and over and expecting different results."
It's a madness that California dairy producers have lived through for years.
Specifically, they have made multiple petitions for substantive changes in the state's milk pricing formula to increase the value of whey in its Class 4b (cheese) component. Again and again, however, the answer has been "no," even as producer support at public hearings has become more and more broad, as testimony has become more vocal and plaintive, and as the number of financially-forced herd liquidations has grown.
Their futility was illustrated again on Tuesday when California Department of Food and Agriculture (CDFA) Secretary Karen Ross denied producers' latest request made at a September 12 price hearing.
She did, however, extend current temporary price relief across all milk classes that amounts to 12.5 cents per hundredweight, which was due to expire December 31. It will now remain in effect until June 30, 2014.
"It's a situation that has been ridiculous to watch unfold," said Rob Vandenheuvel, general manager of Milk Producers Council in Ontario, Calif. "The government got into milk pricing to protect dairy producers, yet we have a referee [the secretary] that is playing for the other team [processors]. If this were a basketball game, it would be 5 against 6."
It was probably going to happen anyway, but this latest denial figures to truly seal the inevitability of a federal milk marketing order (FMMO) being adopted by California milk producers.
With active participation by the state's three major cooperatives, work is currently underway to prepare a formal FMMO petition to USDA that is on track to be submitted in early 2014.
---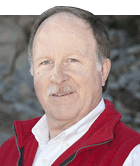 The author has served large Western dairy readers for the past 36 years and manages Hoard's WEST, a publication written specifically for Western herds. He is a graduate of Cal Poly-San Luis Obispo, majored in journalism and is known as a Western dairying specialist.