Idaho dairy leaders say total milk production in the country's third largest dairy state fell in 2013 for just the second time in 23 years.
The dip was tiny - 0.9 percent - according to Brent Olmstead, executive director of Milk Producers of Idaho, but it magnified the effects of what was already a tight milk market that is being driven by new processors and continued strong demand for their products.
Those effects have not been evenly distributed, though, as evidenced by a 50-employee layoff announced on Wednesday by Glanbia Foods, the world's largest producer of America-style cheese that is headquartered in Twin Falls. It is a division of Glanbia plc, which is based in Ireland. Layoffs or other cutbacks have not been announced by any of the state's other dairy processors.
Glanbia Foods president and CEO Jeff Williams (seen here) said the cuts were made at four of the company's plants in south-central Idaho, mostly involving recent hires. They became necessary because Glanbia's milk supply has declined by approximately 10 percent.
"We made record amounts of cheese last year," Williams said in an article in the
Twin Falls Times-News
. "Every one of our customers wanted even more cheese in 2014; demand is really good. That's what makes [this] even more painful right now."
Any time there is competition for milk at least one processor winds up getting squeezed more than others, which is what Olmstead thinks is happening to Glanbia. But he doesn't expect it to last. "They are a very smart group of people," he said in the article.
Drought, tight feed and labor supplies, and narrow profit margins put a damper on milk production by Idaho dairies last year, as they did in other Western states. Bob Narebout, executive director of the Idaho Dairymen's Association, also pointed out that Idaho lost 16 dairies last year.
---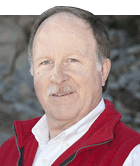 The author has served large Western dairy readers for the past 36 years and manages Hoard's WEST, a publication written specifically for Western herds. He is a graduate of Cal Poly-San Luis Obispo, majored in journalism and is known as a Western dairying specialist.