The author is a dairy program specialist at The Ohio State University.
Editor's note: The 84th annual Hoard's Dairyman Cow Judging Contest is in full swing with the Guernseys set to appear on the February 10 cover. If your group or family would like free reprints of all five classes, send an email to judging@hoards.com.
In the meantime, we are publishing this well-written poem by Bonnie Ayars, an Ohio dairy farm wife and The Ohio State University judging coach. We hope the poem, written in the verse and rhythm of
Twas the Night Before Christmas
, gets you in the judging spirit.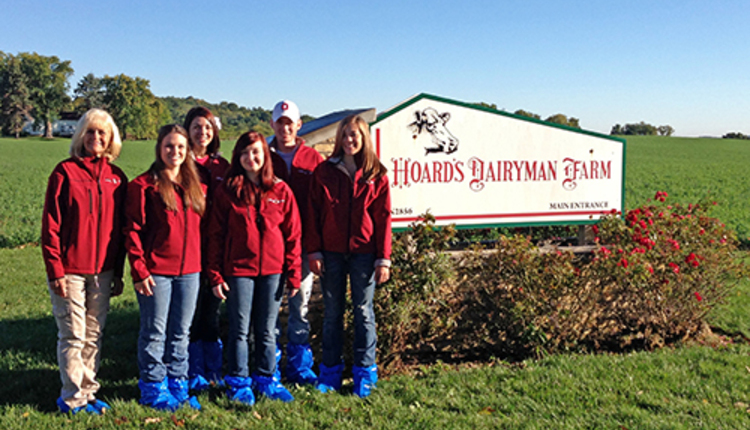 Twas the night before a dairy judging contest
And contestants were preparing to do their best.
Not yet ready to rest and relax in their beds
Visions of hooks, pins, and udder cleft danced in their heads
Coaches were giving some last minute suggestions
In hopes all would listen and follow directions.
Early the next day before the dawn's early light
The lobby was filled with such a pleasant sight.
Fellows in ties and ladies in suits well pressed
Each and everyone dressed for contest success.
Now off the contest as this was the moment
To professionally display their skills and commitment.
Final instructions were clearly announced
For the official roll call, states were pronounced
On Ohio, Maryland, Pennsylvania, and New York
Illinois, Wisconsin, Oregon, and so many more.
A hug, a hand shake, and a sincere statement of good luck;
Coaches feel a sense of pride as into the ring they strut.
And then in a twinkling, the classes appear from the rail,
Cows and heifers circle, turn side by side, and head to tail.
Officials are not exactly a jolly sort as they are evaluating,
But they are lively and quick with their cuts and a placing
Likewise contestants with a note pad and pencil in their hands
Compare the four, take notes, and develop their grants.
Whether standing on the tanbark or sitting in the stands.
It is a pressure that everyone involved understands.
The last class leaves and contestants follow instructions.
This experience will bring a lifetime of connections.
They speak not a word but go straight to their work.
Writing sets of reasons that must be rehearsed.
When all is over, coaches give a whistle to their team
To observe their reactions is a special kind of scene!
Although a ceremony will be held to give out awards,
Every judge there has earned their OWN reward.
But as all travel home, they proclaim of our sponsor's good deeds!
Thanks be to those in the dairy industry who take care of our needs.
You are our "Santas" that create such an event,
And to the next generation, it is a wonderful present!