There was a time when ice cream was just for the affluent. With the advent of insulated ice houses in the early 1800s, it could stay cold.
Ice cream is a refreshing way to enjoy dairy, and the ingredients (protein, calcium, minerals and vitamins) add to its food value. To be called ice cream, it must contain 10 percent milkfat. Gourmet ice creams must contain at least 12 percent and often times are higher. Milkfat affects the palatability, smoothness, color and texture.
Ice cream undergoes pasteurization and homogenization just like fluid milk. Homoginization breaks down the milkfat which adds smoothness and creaminess. During processing, the mixture is whipped and air cells are formed. They prevent ice cream from becoming one solid mass of frozen ingredients, but the air amount is limited, as a gallon of ice cream cannot weigh less than 4.5 pounds. Fruits, nuts and other ingredients are then added. It's hardened at sub-zero temperatures.
In college, ice cream making was part of our dairy processing class and those days were my favorite. With an abundance of California's fresh fruits, milk from the university's dairy and the ability to control the recipe's content, we had hands-on exposure to ice cream's story. Not to mention, Wednesday's results made a delicious evening dessert.
The International Dairy Foods Association produced their
Dairy Facts
2013 Edition and shared its data. The frozen dairy desserts include regular ice cream, low fat and nonfat ice cream, frozen yogurt, sherbert and water ices.
Frozen dairy desserts were on a downslide from 1998 to 2009, but over the past three years is on the upswing, thanks to growth in yogurt and nonfat and lowfat ice creams. While regular ice cream is not gaining market share, it remains the stronghold of the category with almost twice the sales of low-fat and nonfat ice creams combined, and 12 times yogurt's production.
As a shelf-stable (freezer) product, ice cream can be exported around the world. Our neighbors, Mexico and Canada, are the leading importers of U.S. ice cream, respectively. They are followed by the United Arab Emirates, which grew imports 870 percent over the previous year! Australia, Saudi Arabia and Chile follow. Saudi Arabia loves its ice cream as imports expanded a whopping 2,200 percent! That's four continents represented in the top six countries.
As the world seeks more dairy products for a growing population, ice cream is certain to have a spot on their food plate . . . better yet, its own bowl.
---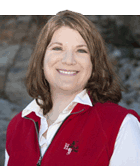 The author is the online media manager and is responsible for the website, webinars and social media. A graduate of Modesto Junior College and Fresno State, she was raised on a California dairy and frequently blogs on youth programs and consumer issues.