More than 15 percent of U.S. milk was exported in 2013. That equates to one out of every seven U.S. tanker loads of milk being turned into products destined for overseas.
U.S dairy exports last year topped a record-breaking 3.91 billion pounds, with a value of $6.8 million. The dollars that exports bring into the dairy industry are not to be ignored.
2013 Annual Export Trade Data
Total value of U.S. dairy exports
$6.7 billion
Total lbs. U.S. milk solids exported
3.91 billion
Percent U.S. milk production exported
15.5%*
Percent of U.S. whey proteins exported
56%
Percent of U.S. skim milk powder/nonfat dry milk exported
58%
Percent of U.S butterfat exported
10.7%
Percent of U.S cheese exported
6.3%
*Total milk solids
"Exports can't be an afterthought," said Alan Levitt, vice president of communications with the U.S. Dairy Export Council (USDEC). He spoke about the importance of dairy exports at the Minnesota-Wisconsin Dairy Policy and Directors' Leadership Conference last week.
Fortunately, the U.S. has been doing well on the worldwide dairy market lately. U.S. dairy exports have been up in 9 of the last 10 years, according to Levitt. Strong demand, fewer competitors and good prices made 2013 a successful year for dairy exports, he said.
This success, in part, is due to a change in philosophy regarding dairy processing. The U.S. dairy industry has grown and shown commitment to exports, creating more products designed for foreign markets, he said.
"It all starts with making the right products," Levitt explained. "We have to retrain ourselves to make the right products in the right packaging (to appeal to export markets)."
While exports have been growing, domestic consumption has slowed pace compared to pounds produced. From 1999 to 2013, milk production rose an average of 1.7 percent per year. Between 1999 and 2008, domestic dairy consumption kept in step with 1.8 percent growth each year. However, from 2008 to 2013, dairy consumption grew just 0.4 percent annually.
"Can exports pick up the slack?" asked Levitt. Perhaps, but we need to double down on exports and devote resources to building export markets, he explained.
Levitt feels we are still the most attractive milkshed in the world and are doing well in export dairy markets. However, more work is still needed in creating products foreign markets desire. "We need to be a better partner to our customers," he said.
---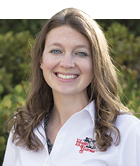 The author is an associate editor and covers animal health, dairy housing and equipment, and nutrient management. She grew up on a dairy farm near Plymouth, Wis., and previously served as a University of Wisconsin agricultural extension agent. She received a master's degree from North Carolina State University and a bachelor's from University of Wisconsin-Madison.