Spring is a very popular time for banquets, including dairy princess contests, FFA award programs and fair royalty competitions. These contests and events display the speaking and presentation skills of young people.
But, the banquets are more than just for contestants in formal attire or youth in official dress. It is a time for dairy producers and those in agriculture to come together to celebrate the industry and be reinvigorated by the young people and their fresh perspectives.
We can all get stuck in a rut with our daily routines and the stress of farming. Taking an afternoon or evening to attend one of these positive and motivating events can jump-start the passion you have for your craft that may have been dormant over the long winter. Chat with an old friend, meet the people who just moved into town and enjoy the camaraderie that is agriculture.
With everyone donning their Sunday best at these events, what a great chance to invite local agriculture-related businesses to attend, too. The bankers, business owners and equipment dealers all are intimately involved in agriculture's success. Showcase our dynamic and progressive industry by welcoming them as well.
And while every politician looks to gain support for their campaigns, it is dairy that often needs to gain support for our campaigns whether it relates to new zoning regulations or property assessments. Dairy has a chance to put faces and personalities to an issue in a personal setting (as opposed to a hearing or meeting). Use the time to build bridges with those who can impact your livelihood.
So, the next time there is a dairy or agricultural promotion function, whether it is a breakfast on the farm or a dairy princess pageant, attend the event. Encourage and support the young people, socialize with your neighbors and network with decision-makers. This use of your time may reap great long-term benefits for your operation and your industry. And, you'll probably have a great time, too.
---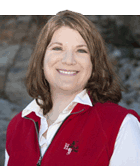 The author is the online media manager and is responsible for the website, webinars and social media. A graduate of Modesto Junior College and Fresno State, she was raised on a California dairy and frequently blogs on youth programs and consumer issues.