For over 50 years, the concept of eating healthy has been synonymous with avoiding dietary fat, especially saturated fats," noted Adam Lock, Michigan State University, at the 2014 Mid-South Ruminant Nutrition Conference. Naturally then, the public's thought process leads them to conclude that milkfat, too, is bad for human health.
As an industry, there is a reality we must embrace: between 60 and 75 percent of the fat in milk is saturated fat. Milk and dairy foods, though, account for less than 15 percent of the nation's dietary fat intake. Additionally, dairy supplies 75 percent of our calcium needs and a mere 10 percent of the nation's total caloric intake.
Yet, what does the science show? Does dietary dairy inclusion have adverse health effects and lead to chronic disease or promote health maintenance and disease prevention?
Milkfat has one of the most diverse fat matrix, with more than 400 fatty acids. But saturated fats aren't simply saturated fats; they are not all created equally. Dairy contributes 30 percent of the nation's saturated fatty acid intake. This is primarily in the form of cheese, milk, ice cream and butter. Yet, this isn't the largest saturated fatty acid sector as nonanimal sources are responsible for 44 percent of our saturated fatty acid intake.
The premise that saturated fatty acids negatively impact human health was spurred in the 1950s with Key's diet-heart theory correlating higher fat intakes to death risk. Critiques of Key's work later emerged, yet the saturated fatty acid/health risk link had taken a foothold. "This whole concept is three to four generations in the making now. The tide is beginning to turn on prevention but will not change overnight," added Lock.
Many human nutritionists perceive milkfat as unhealthy. For decades, plasma cholesterol has been a biomarker for cardiovascular disease (CVD) risk, yet today more than 270 risk factors for CVD are known.
Dairy products are a major source of dietary saturated fats. Saturated fats and milkfats have never gotten a fair hearing in the debate due to the perceived link between cholesterol and CVD. Regardless of this perception, there is little or no definitive evidence that dairy fats or saturated fats are associated with an elevated risk of CVD.
Milkfat will always be a source of saturated fat in the diet, as rumen bacteria want to detoxify unsaturated fatty acids. Despite this, the overall nutritional quality of your diet can be improved by including dairy foods.
Click here
to see more of Lock's messages, follow the MSU Dairy Nutrition Program on Facebook.
---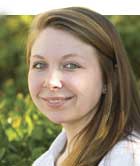 The author is an associate editor and an animal science graduate of Cornell University. Smith covers feeding, milk quality and heads up the World Dairy Expo Supplement. She grew up on a Medina, N.Y., dairy, and interned at a 1,700-cow western New York dairy, a large New York calf and heifer farm, and studied in New Zealand for one semester.