This is one busy week for the
Hoard's Dairyman
editorial team. It's all hands on deck to cover the latest in breed developments at this week's breed conventions and report on the details in our print magazine. In addition to the adult sessions, youth contests will be held, and it's the memories that will last longer than the shine on the trophy.
They say it is about the journey and not the destination. And for me, that holds true.
As a youth, our junior dairy bowl team practiced each Sunday for months prior to the national contest. California had never sent a junior team. In fact, no state had ever sent a junior team before, as, it was the first year for the junior contest. The secret to our success . . . rice krispy treats and swimming. And, yes, we studied, too. Between breaks, we would enjoy treats and then a few hours in, break for swimming. We were just as aggressive on the buzzers as we were playing our version of water polo. We studied together, we played together and had so much fun.
Two decades later at a wedding, I ran into one of my teammates who is no longer involved in agriculture and he reminded me of how much fun we had doing dairy bowl. It took me back to the study/swim parties we enjoyed as young teenagers. Ah, the memories.
That quiz bowl team also gave me one of my favorite memories. It was the only time that my grandfather ever saw me compete . . .
in anything.
He was a stubborn dairy farmer who "did not want to miss milking" and didn't want to show favoritism to any of his thirty-plus grandchildren scattered across the country, so he kept his adventures close to home.
The solution? Bring the contest to him. How ironic that the year my team qualified to compete in the very first national junior dairy bowl contest was the year the convention was 20 miles from his farmhouse in Wisconsin. While our team did not take the championship, I choose not to dwell on the loss, but instead to remember the feeling that day of knowing Grandpa was there to witness my dairy passion for himself.
So, while the one with the trophy is proclaimed the winner, there are more winners for other reasons. Good luck to contestants, thanks to the parents for your support and go make some memories this week!
---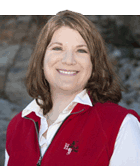 The author is the online media manager and is responsible for the website, webinars and social media. A graduate of Modesto Junior College and Fresno State, she was raised on a California dairy and frequently blogs on youth programs and consumer issues.