The 2014 meetings of the American Jersey Cattle Association and National All-Jersey Inc., took place in Alexandria, Va., just miles away from the nation's capitol.
As part of the convention, attendees visited historic Washington D.C., including a stop at the Arlington National Cemetery. There, association members had the opportunity to witness a special wreath laying ceremony at the Tomb of the Unknown Soldier.
The Tomb of the Unknown Soldier was established in 1921. The unknown soldiers laid to rest at the tomb represent all missing and unknown service members who made the ultimate sacrifice, giving not only their lives but also their identities to protect America's freedom. The tomb is the final resting place for unknown soldiers from World War I, World War II and the Korean War.
Written on the tomb are these solemn words:
Here rests in honored glory an American soldier known but to God
The tomb is guarded 24 hours a day, 365 days a year, and in all weather conditions by tomb guard sentinels. The sentinels are considered to be the best of the elite 3rd U.S. Infantry Regiment, known as The Old Guard.
A wreath of red and white flowers, adorned by a red, white and blue ribbon carrying the words American Jersey Cattle Association, was used to honor the unknown soldiers. National All-Jersey Inc. Board of Director members and Jersey breeders Norman Martin from Tillamook, Ore., Jerry Spielman from Seneca, Kan., and Chris Sorenson from Pine River, Wis., represented the organization and laid the wreath on the tomb.
---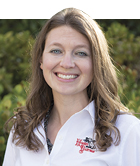 The author is an associate editor and covers animal health, dairy housing and equipment, and nutrient management. She grew up on a dairy farm near Plymouth, Wis., and previously served as a University of Wisconsin agricultural extension agent. She received a master's degree from North Carolina State University and a bachelor's from University of Wisconsin-Madison.