Comfortable cows or easily maintained manure systems. It seems like many dairy producers feel they must choose between one or the other. Sand has a strong reputation for enhancing cow comfort and lowering somatic cell counts while remaining an inexpensive bedding choice. However, many dairies must also consider how to handle the bedding once it has been used. Sand is not only hard on equipment but can be especially difficult on manure separators and digesters.
For Walmoore Holsteins in Cochranville, Pa., the solution has been the creation of "sandland." Eight years ago, the dairy switched to sand bedding in their freestalls. Using a flush system, they wash all the cattle excrement and sand down to their manure management facility three times a day. Upon arrival, the mixture progresses through a series of weirs, which work like speed bumps to slow the mixture down and allow the sand to settle out. The water and remaining feces proceed onto the manure separator.
Once a day, the sand is scraped to the side and allowed to drain. Each day, an employee moves the sand pile to a new location on a cement pad for further drainage. The sand takes about two to three weeks to dry out, and then it is recycled as bedding to again be used in the freestalls. During the winter, additional sand piles are collected along the manure management facility since the lower temperatures reduce drainage.
Charlene Dickens, herd manager at Walmoore, said the sand bedding helped lower their somatic cell count and has been a good strategy for the farm. She admits it takes more space and a little more care, but the cows responded well to the recycled sand bedding.
Walmoore's 830 head have a rolling herd average over 30,000 pounds of milk and run a somatic cell count under 150,000. They plan to continue using their "sandland" to recycle bedding, and eventually plan to expand the area and grow their herd size.
---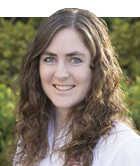 The author is the 26th Hoard's Dairyman editorial intern. This fall she will be a senior at Kansas State University in Manhattan, Kan. At KSU, Maggie is double majoring in agricultural communications and journalism and animal sciences and industry. Seiler grew up on a 130-cow registered Holstein dairy in Valley Center, Kan., near Wichita.