A few clicks of my heels and a quick 11-hour drive, and I will be back on my flat, home turf of Kansas, enjoying 100-plus degree temperatures and humidity. It seems like the three months I have spent as the editorial intern at
Hoard's Dairyman
have really flown by.
Before I pack my bags and turn the last page in this chapter of my college experience, I wanted to leave dairy and nondairy students with a lesson I have learned from my adventures this summer. Find an internship in a state or industry that you never thought you would.
My time in Wisconsin has allowed me to expand my knowledge of the dairy industry and hone my writing skills while having an opportunity to network with elite members of the industry. Like Dorothy's travels in the Land of Oz, I have seen an incredible amount of new terrain and have gained confidence while skipping, walking and sometimes tripping down the path of becoming a better dairyman.
Nine months ago when I was applying for the internship, I had no idea I would travel to 18 states and visit such a wide variety of dairy operations. I didn't know I would be writing more stories, blogs and press releases than I have for any other internship or job I have previously had. All these experiences were possible because I decided to try something new and outside of my comfort zone.
I had been told by many mentors and friends that internships were a great way to learn what you enjoy doing, and now, I can count myself among that group. Yes, I had a few "flying monkey" moments, but they were all part of the learning experience.
Whether you are in high school, college or the parent of an aspiring dairy industry member, find an internship that will provide the opportunity to try something new. Internships are a great time to grow, and home is always only a few clicks of your ruby slippers away. Thanks to everyone who has helped me along the way. I truly appreciate it.
Editorial intern Maggie Seiler visiting Lecows Dairy in Paducah, Kentucky.
---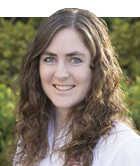 The author is the 26th Hoard's Dairyman editorial intern. This fall she will be a senior at Kansas State University in Manhattan, Kan. At KSU, Maggie is double majoring in agricultural communications and journalism and animal sciences and industry. Seiler grew up on a 130-cow registered Holstein dairy in Valley Center, Kan., near Wichita.