There are no coincidences when animal activists are involved. A reminder of that came again this week when the undercover video circus moved to Albuquerque, N.M., looking more neatly scripted than ever.
Chapter one was a secret video taken by a Mercy for Animals investigator at Winchester Dairy near Dexter, N.M., during August and September, using what appears to be a fisheye button or pen camera. It is unknown whether the activist was an employee, and if so for how long they had worked there.
The video shows a wide range of animal treatment, some of which are mischaracterized for the benefit of clueless viewers. But there is also egregious treatment of downer cows with loaders and throwing of calves into a pickup bed.
It and other evidence were turned over to the New Mexico Livestock Board September 11, which began an aggressive investigation the next day. The dairy fired all of its workers, stopped milking entirely, and sent all cows to neighbor farms.
What is perhaps the true intent of the video becomes clear within the first 10 seconds, when the narrator says the dairy ships its milk to Leprino Foods, the world's largest producer of mozzarella cheese. By Wednesday afternoon the company announced it would no longer accept shipments from the dairy.
The video's message to viewers, of course, is that animal treatment seen in the video happens at
all
dairies. The narrator even says so at the end: "Cruelty to animals may be standard practice in the dairy industry, but it doesn't have to be this way."
Matt Rice, Mercy for Animals' director of investigations, went even further, telling Associated Press that based upon the six videos the group has made across the country - yes, just six - "This isn't a matter of a single dairy farm failing to meet industry standards. This is a matter of industry standards allowing for blatant animal abuse."
According to USDA, there were 46,960 licensed dairies in the country in 2013.
Chapter two was a press conference held in Albuquerque Wednesday morning, although even the communications person at Mercy for Animals headquarters in Los Angeles that I spoke to was unable to tell me its location, and despite being in Albuquerque all day I was unable to locate anyone who either attended the press conference or knew where it was held.
Chapter three is the fact that the 47th annual conference of the American Association of Bovine Practitioners began Wednesday in Albuquerque and continues through Saturday. Rather than coincidental, it was easy to sense and smell that all three chapters of this spectacle were scripted and choreographed many months ago, specifically so its release date and location could coincide with one of the biggest livestock health events in the country.
These shows are getting slicker. The video quality is getting better. The propaganda narration is getting more myopic and inflammatory. Expect more of them in the future and expect them to get worse.
---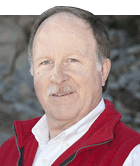 The author has served large Western dairy readers for the past 37 years and manages Hoard's WEST, a publication written specifically for Western herds. He is a graduate of Cal Poly-San Luis Obispo, majored in journalism and is known as a Western dairying specialist.