Answering the onslaught of consumer concerns is a very real challenge facing dairy producers today. It is fitting then that this topic was the focus of the World Dairy Expo seminar entitled, "How to handle difficult questions from consumers and make a difference for dairy."
The seminar that was led by Stan Erwine, vice president of producer communications for Dairy Management Inc., featured dairy producers Marilyn Hershey, Pennsylvania, and Tracy Loos, Wisconsin. Amanda Hintz, a dairy student from Wisconsin, joined them.
Their advice for producers who face the hard questions was to keep it simple. Hintz said this was especially important when chatting with millennials.
"They don't have any idea about what we do," she said. "They just want to know the basics."
Erwine recommended devising an introductory statement that allows the consumer to understand the strong family ties and values of the dairy industry. He said it is important to emphasize that we care about our animals, the environment, and producing a safe and healthy product for the public.
As the session wrapped up, Erwine reminded the producers that it is important to return home and just try something.
Return to Hoard's at Expo homepage
---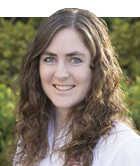 The author is the 26th Hoard's Dairyman editorial intern. This fall she will be a senior at Kansas State University in Manhattan, Kan. At KSU, Maggie is double majoring in agricultural communications and journalism and animal sciences and industry. Seiler grew up on a 130-cow registered Holstein dairy in Valley Center, Kan., near Wichita.