Four-year-olds TJ Classic Minister Venus-ET and Marynole Excite Rosey emerged at the top of the deepest Jersey cow class of the day and stayed side by side throughout the afternoon. As Judge Nathan Thomas walked the ring to select his grand and reserve champion, they remained together.
He tapped Venus first, exhibited by Nic, Jeni, Ben and Andy Sauder of Illinois, as the Grand Champion, and then moved on to choose Rosey, owned by Ernest Kueffner and Terri Packard of Boonsboro, Md., as the Reserve Champion.
"Like I said earlier, these 4-year-olds, they're my kind of cow," said Thomas.
In his debut on the colored shavings, Judge Thomas was quick to compliment the quality of the 368 cows and heifers in the Jersey show. He described his first experiences as the thrill of a lifetime.
"Give these exhibitors a big round of applause because it has been one hell of a show," said Thomas.
He selected Junior 3-year-old Discoverys Tequila Jewelene, exhibited by Lisa Demmer of Ellendale, Minn., as the Honorable Mention Grand Champion and Intermediate Champion. She was followed by Glenview Tequila Fawn, owned by Milksource Genetics of Kaukauna, Wis., as the Reserve Intermediate Champion.
In the heifer show, Steeshanie Iatola Tinkerbell, exhibited by Madison A. Iager of Woodbine, Md., was selected as the Junior Champion, and Elliotts Sterling Impression-ET, owned by the Sterling Syndicate of Litchfield, Conn., was named the Reserve Intermediate Champion.
---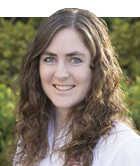 The author was the 26th Hoard's Dairyman editorial intern. She is a senior at Kansas State University in Manhattan, Kan. At KSU, Maggie is double majoring in agricultural communications and journalism and animal sciences and industry. Seiler grew up on a 130-cow registered Holstein dairy in Valley Center, Kan., near Wichita.