With his usual gusto, Michael Heath had the music turned up in the ring and headed toward the four cows he had pulled out for Grand Champion of the show. He walked the group once then doubled back to slap the winning aged cow, Hard Core Rebel Rockette, owned by Cor-Bloo Syndicate of Cory, Ind., as Grand Champion of the International Milking Shorthorn Show.
"She just has class," described Judge Heath. "She has so much breed character about her head and a sweet udder."
Judge Heath used the winning Senior 2-year-old, Corstar Lovely Lady-EXP-ET, owned by Cory Salzl of Litchfield, Minn., as Reserve Champion and the winning Junior 3-year-old, Kuszmar Megadeth Poppy, owned by John and Marjorie Kuszlyk of Botavia, N.Y., as Honorable Mention. Heath said the Senior 2-year-old earned her position as she followed the same pattern of the grand champion.
In the heifer show, Lazy M Pirelli Got It-EXP, owned Lazy M Farm LLC - Michael and Heman Maier, Stitzer, Wis., had what it took to be named Junior Champion of the show. The winning fall yearling, Topp-View Moonshine Alexa, owned by Keaton, Kinley and Madelyn Topp of Botkins, Ohio, was named the Reserve Champion.
The "Ladies" brought home the banners in the junior show with Innisfail Ro Lady 906-EXP, owned by Brooke M Clark of Cornish Flat, N.H., named the Grand Champion and Innisfail JB Lady 121, exhibited by Michael Pederson of Braham, Minn., named the Reserve Champion. PD Presto Dont Be Jealous, exhibited by Tucker Peterson of Mountain Grove, Mo., brought home Junior Champion honors in the junior show.
---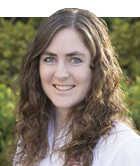 The author was the 26th Hoard's Dairyman editorial intern. She is a senior at Kansas State University in Manhattan, Kan. At KSU, Maggie is double majoring in agricultural communications and journalism and animal sciences and industry. Seiler grew up on a 130-cow registered Holstein dairy in Valley Center, Kan., near Wichita.