Of the thousands of products on display at World Dairy Expo in Madison, Wis., last week, the one that most captured my attention was a few ounces of high density polypropylene plastic – in the form of a BIG calf feeding bottle.
Yes, a calf bottle… but one that holds 4 quarts (pictured on the left next to 2- and 3-quart bottles).
The 1-gallon giant is a partnership between Calf-Tel, which manufactures and sells them, and Land O'Lakes Animal Milk Products. It gives dairy producers another valuable tool to help deliver "full potential feeding" and nutrition to unweaned calves.
An avalanche of research data in recent years has shown that the traditional practice of feeding calves 1 gallon of 20:20 milk replacer per day starves calves in general and kills them during cold weather and other stress periods by weakening their immune systems.
Researchers say 2 to 3.5 gallons per day is actually needed, and the impact of those levels on calf performance is profound. In addition to less mortality, faster and bigger growth, and earlier breeding, calves in full potential feeding trials have typically out-produced control animals by 1,100 to 1,600 pounds during their first lactation.
The 4-quart bottles look similar to 2- and 3-quart bottles and use the same nipples. The big difference is they are rectangular instead of square. They also lack recessed gripping indentations. One side is the same 4-1/4" width as smaller bottles, so they fit into a standard hutch bottle slide, while the other side is 5-1/4" wide. Height is the same as a 3-quart bottle. Total weight when filled is 9 pounds.
Retail availability is scheduled to begin next week. Suggested price is $10.99 each including nipple, with slightly lower prices in quantity. A special one-time discount will also be offered.
Although the cost is significantly more than smaller units, their nutrition and health benefits are also significantly greater. Two years from now, more heifers in milking strings will be the proof.
---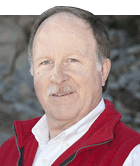 The author has served large Western dairy readers for the past 37 years and manages Hoard's WEST, a publication written specifically for Western herds. He is a graduate of Cal Poly-San Luis Obispo, majored in journalism and is known as a Western dairying specialist.