As I boarded the plane to leave World Dairy Expo last week, the imminent threat of snow had me dreading the predictions of an equally miserable winter to come. Maybe I am jumping the gun, but the
Old Farmer's Almanac
has predicted a winter in line with that of last year's with lower than average temperatures and average to more than average snowfall across the nation.
I remember many previous winters that have snuck up on us at home when we were trying to finish field work before it got cold. At my house, winter preparedness of the facilities means rolling down the curtains on our naturally ventilated freestall barn, closing the windows in our milking parlor and checking to make sure the parlor heater is functional and ready to roll. Every year, we seem to find the summer months took a toll on our buildings with broken windows and curtain cranks that get stuck.
Now is the time to start preparing for the chilly conditions, and Tracey Renelt, extension field specialist at South Dakota State University, offered some helpful tips for preparing the dairy.
In the barn
, check any ventilation fans to ensure they are operating correctly and ensure there is no loose tin or broken rafters. He also recommended trimming trees near barns, fences and drives to avoid or reduce damage from broken branches.
Prepare all equipment
including servicing backup generators, tractors, feed mixing wagons and manure pumps.
Check waterers and water lines
to certify there are no leaks that may lead to slick floors.
Renelt recommends beginning preparations sooner rather than later. As Expo proved to me last week, winter may be just around the corner.
---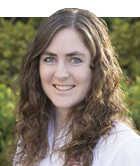 The author was the 26th Hoard's Dairyman editorial intern. She is a senior at Kansas State University in Manhattan, Kan. At KSU, Maggie is double majoring in agricultural communications and journalism and animal sciences and industry. Seiler grew up on a 130-cow registered Holstein dairy in Valley Center, Kan., near Wichita.