Virtually no one doubts that U.S. farm milk prices will be lower in 2015. While many different predictions are out there, the only debate is about how far they may fall.
Speaking at last week's United Dairymen of Idaho annual meeting in Boise, economist and
Daily Dairy Report
editor Mary Ledman (seen here) said her prediction is a low of around $15.50 per hundredweight in April, May or June - or perhaps all of them.
She noted with obvious skepticism that the latest USDA All-Milk forecast for 2015 was $19.50, and then told producers, "If you can lock in your milk anywhere close to that, do it!" She pointed out that, in New Zealand, the current Fonterra price forecast suggests a world market price of $14.
High milk prices in 2014 get most of the blame for the expected decline in 2015. Buyer resistance was one result, but increased supply is another.
"Twenty-dollar milk around the world did what $7 corn did - it made exporters out of countries that used to be importers," said Ledman.
As a result of much lower milk prices, she expects a 50 percent drop in the record margins that U.S. producers saw at times this year. And she believes producers' response to still-falling feed prices in 2015 could be much different between the Midwest and West.
She pointed out that cash corn prices were below $2 per bushel in parts of the Midwest in mid-November, which is what some parts of the West have to pay just for the freight to get it there.
"We had a great ride in 2014 and it lasted maybe longer than it should have," said Ledman. "But we've been here before. Even with this downturn, dairy still looks like a great place to be for the long term."
---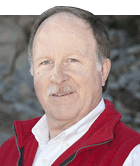 The author has served large Western dairy readers for the past 37 years and manages Hoard's WEST, a publication written specifically for Western herds. He is a graduate of Cal Poly-San Luis Obispo, majored in journalism and is known as a Western dairying specialist.