A good set of feet and legs is imperative for a cow to live a long and productive life. Many producers understand this and breed it, but without attentive management, the farm's heifers may never have the opportunity to reach their full potential as lactating cows. Feet and leg issues, such as digital dermatitis, often go unnoticed in heifers because they don't always cause lameness.
Research conducted by the University of Wisconsin offers a clear picture of the damage digital dermatitis can cause to a heifer's hoof conformation. During their study, the scientists saw significant changes in hoof conformation in heifers that exhibited digital dermatitis lesions larger than 20 mm in diameter. The heifers had more heel height with a greater claw angle and more depth of the interdigital cleft. They also saw a larger accumulation of debris in the interdigital space. Furthermore, feet affected by clinical digital dermatitis were 46 percent more likely to suffer from severe heel horn erosion.
The researchers also predicted they would see a difference in hoof wear and hoof growth related to mobility changes which would be linked to discomfort. However, they found no evidence of hoof wear related to pain because the heifers analyzed showed no lameness. They believe there is more room for research in this area as it relates to bedding and housing situations.
The task presented to producers remains daunting considering very few heifers displayed lameness. However, the overgrown heels, shortened claws and severe heel horn erosion could cut years off of the heifers' productive lives. The scientists recommended active surveillance of the animals and early intervention whenever possible.
---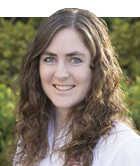 The author was the 26th Hoard's Dairyman editorial intern. She is a senior at Kansas State University in Manhattan, Kan. At KSU, Maggie is double majoring in agricultural communications and journalism and animal sciences and industry. Seiler grew up on a 130-cow registered Holstein dairy in Valley Center, Kan., near Wichita.