Fat is having a heyday.
For decades, the standard recommendation within the nutrition community has been to avoid fat like the plague. As the U.S. developed an obesity epidemic, their rationale to cut fat and sidestep calories, while still getting calcium and protein, seemed logical.
According to recent research, though, the fat-bashing health and dietary experts behind these recommendations may have been wrong.
Published in the
European Journal of Nutrition
, a review of the existing research on dairy fat came to two major conclusions:


People who consume full-fat dairy are no more likely to develop type 2 diabetes or cardiovascular disease than those who stick to dairy's low-fat selection.

When it comes to weight gain, full-fat dairy products may be your better option.
In an interview with Time, Mario Kratz, lead author of the review and a nutrition scientist at the Fred Hutchinson Cancer Research Center in Seattle, noted that, "In terms of obesity, we found no support for the notion that low-fat dairy is healthier."
Of the 25 studies reviewed, 18 reported lower body weights, less weight gain or a lower risk for obesity among individuals consuming full-fat dairy. The other seven studies were inconclusive.
When it comes to food, not all calories are created equal, and a focus on calories-per-serving largely ignores a critical factor when it comes to obesity: fullness. Kratz added that the fatty acids that are stripped out of reduced-fat dairy are the same ones that help you feel full sooner and stay full longer.
The belief that fat isn't a villain has gained traction in recent years. This shouldn't come as a surprise, though, the foundation for the "fat is evil" notion has always been weak.
Time
magazine, too, is doing an about-face on dairy. In addition to its recent review of Kratz's study, it featured a multi-page article on the
benefits of butter
last summer.
---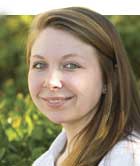 The author , Amanda Smith, was an associate editor and is an animal science graduate of Cornell University. Smith covers feeding, milk quality and heads up the World Dairy Expo Supplement. She grew up on a Medina, N.Y., dairy, and interned at a 1,700-cow western New York dairy, a large New York calf and heifer farm, and studied in New Zealand for one semester.