Even for a town rich in dairy history like Fort Atkinson, Wisconsin, educating the public about cows and dairy products should not be taken for granted. A small committee planned the first Dairy Day at the Moo-seum this year. It was held on Saturday, June 13, on the lawn behind the National Dairy Shrine Museum and the Hoard Historical Museum.
All seven dairy breeds were on display, where the pubic could see and pet the cows and calves. The "Cow Parade" was held at 1 p.m. and included each breed circling the lawn as the breed characteristics were announced by Cierra Ehrke-Essock, Wisconsin Holstein Princess Attendant, a Fort Atkinson resident, and Olivia Peter, the Jefferson County Fairest of the Fair. Most breeds had a cow and calf to portray the size and variances in color patterns.
Other activities included "Pin the udder on the cow." Children were handed a pink cloth udder and were blindfolded. They walked toward the large silhouette of a cow and placed the udder on the bovine.
An obstacle course gave children a peek into a day in the life of a farmer. They were to put on farmer clothes (hat, flannel shirt), pour their morning beverage into a cup, scoop grain, toss or roll a small bale of hay, sit and read a farm paper, and then head for the blanket on the lawn for a "nap."
The museum was open to the public to view the dairy artifacts on display in the Dairy Shrine Museum. There were also trivia contests, butter churning and cheese tasting for attendees.
---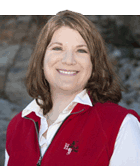 The author is the online media manager and is responsible for the website, webinars and social media. A graduate of Modesto Junior College and Fresno State, she was raised on a California dairy and frequently blogs on youth programs and consumer issues.