When thinking about a person who is an all around contributor to an industry, the name of
Lorne Ella
of Rock Ella Jerseys of Hornby, Ontario, Canada, quickly jumps to mind.
This year's 74th winner of the Klussendorf award was a natural to be heavily involved with cattle, as both of his parents had been brought up that way. With his passionate mother and a wise, deep thinking father, he was well tutored from the moment he could absorb cow knowledge.
That combination of parental guidance, a keen desire to learn, and an absolute hotbed of elite Jerseys herds near his home farm that included Avonlea, Lindale, Starbelle and Elemar helped set the stage for a remarkable career in the Jersey breed that would eventually garner him two Master Breeder Awards.
No stranger to World Dairy Expo, he was one of the early breeders to cross the border and show at the event . . . with great success. Twice he exhibited Grand Champions on the colored shavings: Golden Lori in 1989 and Jersey breed matriarch Duncan Belle in 1991. Of course, we cannot leave Rock Ella BSV Natasha off the list as she was bred by this year's award winner and earned Grand Champion honors one year before World Dairy Expo laid the colored shavings for the first time in 1984.
Of these three champions, Duncan Belle has earned her crown as an undisputed game changer. She was a supremely successful show cow that produced with the best of them and went on to become an iconic breeding cow. Trying to find an intriguing Jersey bull that does not carry genes from her son Rock Ella Paramount or her grandson Lester Sambo is like finding the proverbial needle in the haystack.
Lorne Ella is a respected dairy cattle judge, but more importantly a mentor and "second father" to young dairy people. Quite frankly, it's hard to imagine how anyone could find greater pleasure than Lorne has to see his adopted "children" succeed in the dairy industry.
---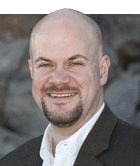 The author is the managing editor, and he brings 19 years of industry leadership to our readers overseeing all editorial content and production of the magazine. His degree from the University of Wisconsin-Madison combined dairy science and agricultural economics.