"There's one cow that lit me up today," said Lynn Harbaugh, judge of the 2015 International Guernsey Show. "She has it all. She's all quality, with dairy strength from end to end and a beautiful udder."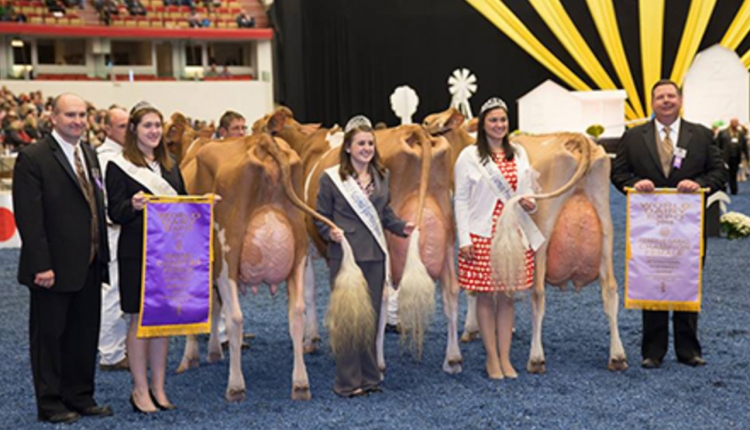 She was Misty Meadows Levi-Suede-ET, the Junior 3-year-old owned and exhibited by Beth Anne Clark of New Paris, Pa. She was named Intermediate Champion and Grand Champion of the 193 Guernseys shown at this year's World Dairy Expo. She also received Best Udder and Best Bred and Owned honors.
Harbaugh, of Marion, Wis., and his associate judge Kevin Jorgensen of Waupun, Wis., selected the Senior Champion, Millbone Hillpoint S Fiesta-ET, owned by Morey Miller, M. Hellenbrand, and P. Vail of Granby, Conn., as their Reserve Grand Champion.
The first and second place spring yearlings, a pair Harbaugh described as "ultra dairy, stylish heifers," were named Junior and Reserve Junior Champion. Junior Champion was Springhill Laredo Jubilee-ET, owned by Marshall Overholt of Big Prairie, Ohio. The Reserve Champion was Up The Creek Jester Kazaam, owned by Scott and Lindsay Weisensel, Marshall, Wis.
In the Junior Show, Knapps Regis Tambourine-ET rose to the top of the 67 junior owned animals. She was owned and exhibited by Austin & Landen Knapp of Epworth, Iowa. Dix-Lee Kojack Fawn, owned by Whitney Lee Yerina, was the Reserve Grand Champion and Intermediate Champion Female of the Junior Show for the second consecutive year. Reserve Senior Champion was awarded to Prairie Moon Y Antebella, owned by Landon and Leslie Sivesind of Waukon, Iowa.
The Junior Champion of the Junior Show was Adams Creek Phoenix Mallory, owned by Alyssa and Kate Nuttleman of Bangor, Wis. Reserve Junior Champion was Trotacre Tiller Maelyn-ET, owned by Cara Trotter of Enon Valley, Pa.
Both the Premier Breeder and Premier Exhibitor honors went to Austin and Landen Knapp of Epworth, Iowa. Their cow, Knapps Fame Tomorrow-ET, won the 2015 World Dairy Expo International Guernsey Futurity. The Premier Sire was Millborne Tiller Fayes Fame-ET, and the Wisconsin Guernsey Breeders won the State Herd award.
---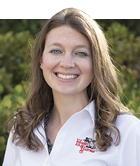 The author is an associate editor and covers animal health, dairy housing and equipment, and nutrient management. She grew up on a dairy farm near Plymouth, Wis., and previously served as a University of Wisconsin agricultural extension agent. She received a master's degree from North Carolina State University and a bachelor's from University of Wisconsin-Madison.