More and more these days, taking a quick trip down to the grocery store doesn't involve a grocery store at all. Instead, a likely destination is a convenience store, dollar store, supercenter, small specialty store, or farmers' market.
It is a trend that food retailers struggle to keep up with and hopefully answer the question, "what's next?" explained Mike Beal (pictured), Chief Operating Officer of Balls Food Stores in Kansas City, at last week's National Agricultural Bankers Conference.
Millennial consumers - ages 15 to 35 - are a big driver in this shift away from traditional markets, which he believes will only increase as more of them leave home, enter the workforce, and start shopping for themselves.
Sales data show how big the shift has already been. In 1995, traditional grocery stores did $550 billion in sales. By 2013 the figure had dropped to $339 billion, despite 18 years of rising food prices.
Beal said the fastest growing segments of non-traditional grocery formats are specialty stores that target either the high or low end of the income spectrum. Both typically present some version of the "buy fresh, buy local" and natural concepts, which includes farmers' markets and organics.
Technology is another key factor. During that same period, many newspapers have shrunk and some have died, at least in part because millennials tend to not read them. That means grocery stores' advertising and coupons reach fewer customers.
Beal said millennials' preference for non-traditional shopping outlets is constantly forcing grocery stores to know their customers better and to adapt to their preferences – which is where farmers themselves are entering the picture more than ever before.
Their participation already includes in-store "meet the farmer" events where shoppers interact with local farmers who produce their food. In addition, grocery stores are increasingly building stronger relationships not only with farmers, but also with farmers' suppliers, like seed and fertilizer companies. It is a trend that Beal believes will also continue.
---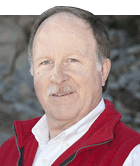 The author has served large Western dairy readers for the past 38 years and manages Hoard's WEST, a publication written specifically for Western herds. He is a graduate of Cal Poly-San Luis Obispo, majored in journalism and is known as a Western dairying specialist.