We recently took my nephew Michael out to our family's dairy barn for the first time. At just under four months of age, Michael couldn't say what was on his mind, but the look on his little face made it quite clear; he was in awe. His big blue eyes were wide as he took in the sounds, the smells, the sights and the cows.
When you walk into your dairy barn, do you have that same look of awe? Most likely, the answer is no. You walk that same path, hear the same sounds and look at those same sights every single day. That intricate knowledge and perspective of your herd is invaluable; however, there could be more to gain by looking at your dairy with a fresh set of eyes. That is one of the benefits of a farm advisory team.
Advisers see your operation with a fresh perspective. Depending on their area of expertise, each adviser looks at your herd a little differently. The veterinarian will probably hone in on animal health, while your milk plant representative is more likely to focus on milk quality and milking equipment. Each expert sees your farm in a different light, but rarely do they get to view the whole picture. These perspectives are like pieces of a puzzle that, when brought together, can cause positive change on your dairy.
Who should be on your farm advisory team? That is up to you. Your veterinarian, lender, nutritionist, accountant, milk plant representative, extension educator, and any other consultants or partners you work with all can be valuable assets to your team. The ultimate goal is to form a team that works well together, has an array of expertise, and has your dairy's best interests in mind.
If you are looking for tips on starting a farm team, the Hoard's Dairyman Bookstore has a resource for you. The
Dairy Advisory Teams: A Handbook for Producers
was created in the early 2000s, but the guidelines for forming teams and running successful meetings is just as relevant today.
Consider bringing in new eyes to look over your dairy. Other people may notice things you can't see because you are there every day. Whether your farm is running almost seamlessly or facing major bottlenecks, a team approach can strengthen your dairy in the long run.
---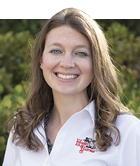 The author is an associate editor and covers animal health, dairy housing and equipment, and nutrient management. She grew up on a dairy farm near Plymouth, Wis., and previously served as a University of Wisconsin agricultural extension agent. She received a master's degree from North Carolina State University and a bachelor's from University of Wisconsin-Madison.