Who would have thought that a love story from years past would lead to new state-of-the-art freestall barns and student housing renovations?
The students at the Oklahoma State University (OSU) Dairy, recently renamed the Ferguson Family Dairy Center, are preparing for major changes in the coming years to the place where many work and some even call home.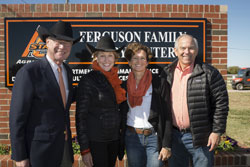 Larry Ferguson first met his wife, Kayleen, while they were both working at the OSU Dairy, and is now giving back to the university by donating $2 million to help further research conducted by both students and staff. The gift will include the construction of new freestall barns that will house Insentec cattle feeders, which will assist in the measurement of daily feed and water intake.
Along with the new housing for the Holstein and Jersey herd, students who currently live at the dairy center will also be receiving a few upgrades. The small kitchen, four bedrooms, and one bath built into the old milking parlor may not look like much to those who are just passing by, but several students, including me, call this housing their "barn sweet barn." Within the next few years, renovations will be made to the original dairy that will allow six students to live on the farm in newly built rooms along with a brand new kitchen, living room, and two baths.
Ferguson grew up on a small dairy and is now the retired CEO of Schreiber Foods, but he still remains true to his dairy roots. "I was born into the dairy business," he said. "My mom and dad would rather milk cows than go on vacation. So this facility really symbolizes the passion Kay and I have both for dairy and education."
While there is still much to be done before construction starts, the Cowboys are excited for this new chapter in OSU Dairy history. The dairy center, which first got its start in 1920, is sure to continue on for many years thanks to this generous gift from the Ferguson family.
---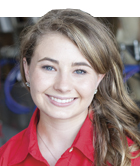 Taylor Leach grew up on her family's dairy farm in Linwood, Kansas. Leach graduated with an associate's degree from Kansas City Kansas Community College and now attends Oklahoma State University, majoring in animal science and agriculture communications. On campus, she is a member of the dairy club and also works on the university's dairy farm. Leach will be serving as the 2016 Hoard's Dairyman summer editorial intern.